Stop Number Two on our trip was meant to give us a break from being on a train for the ten hours it takes to get from Brussels to Vienna, but Nuremberg ended up being much more than a pit stop for us.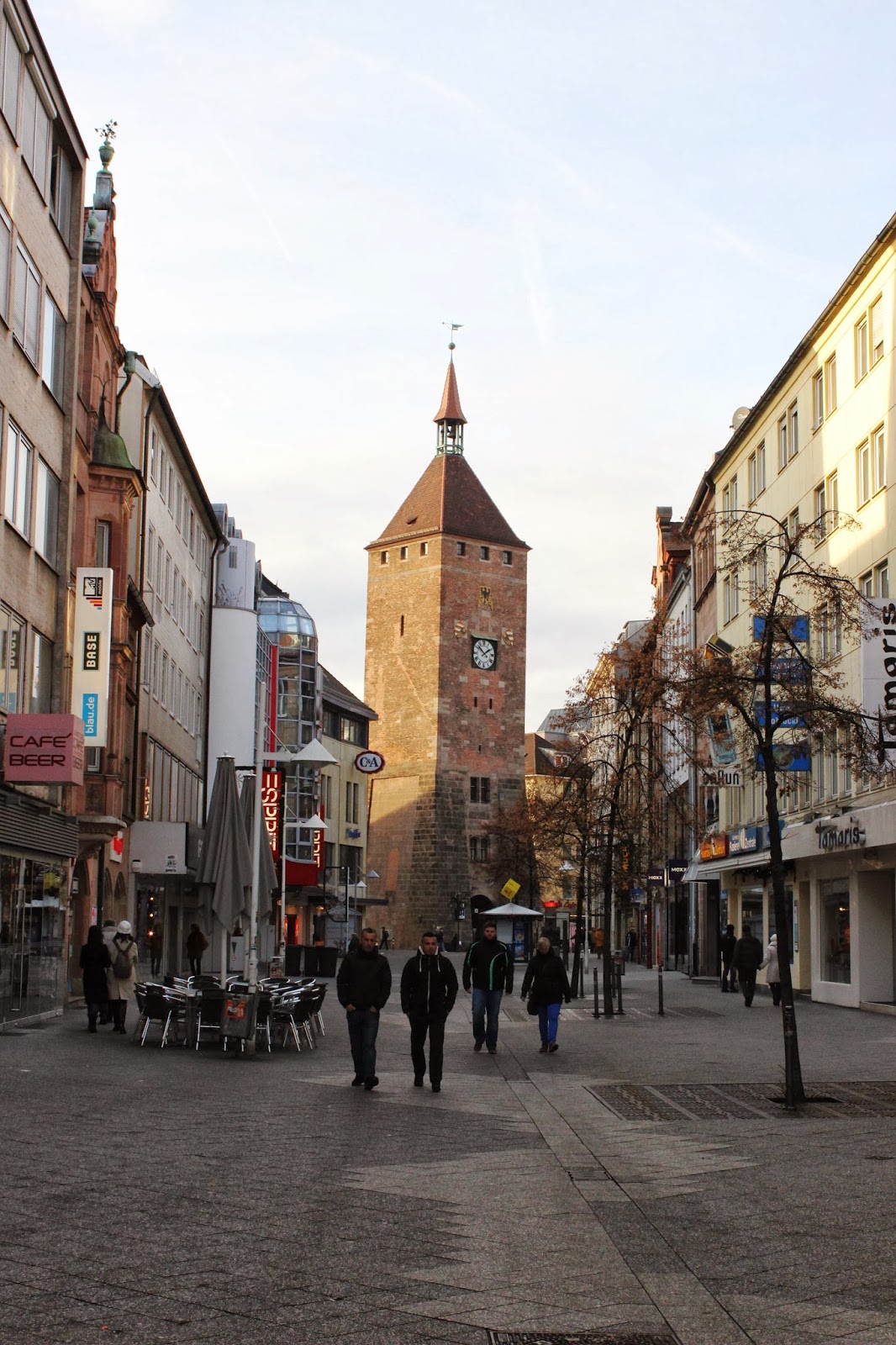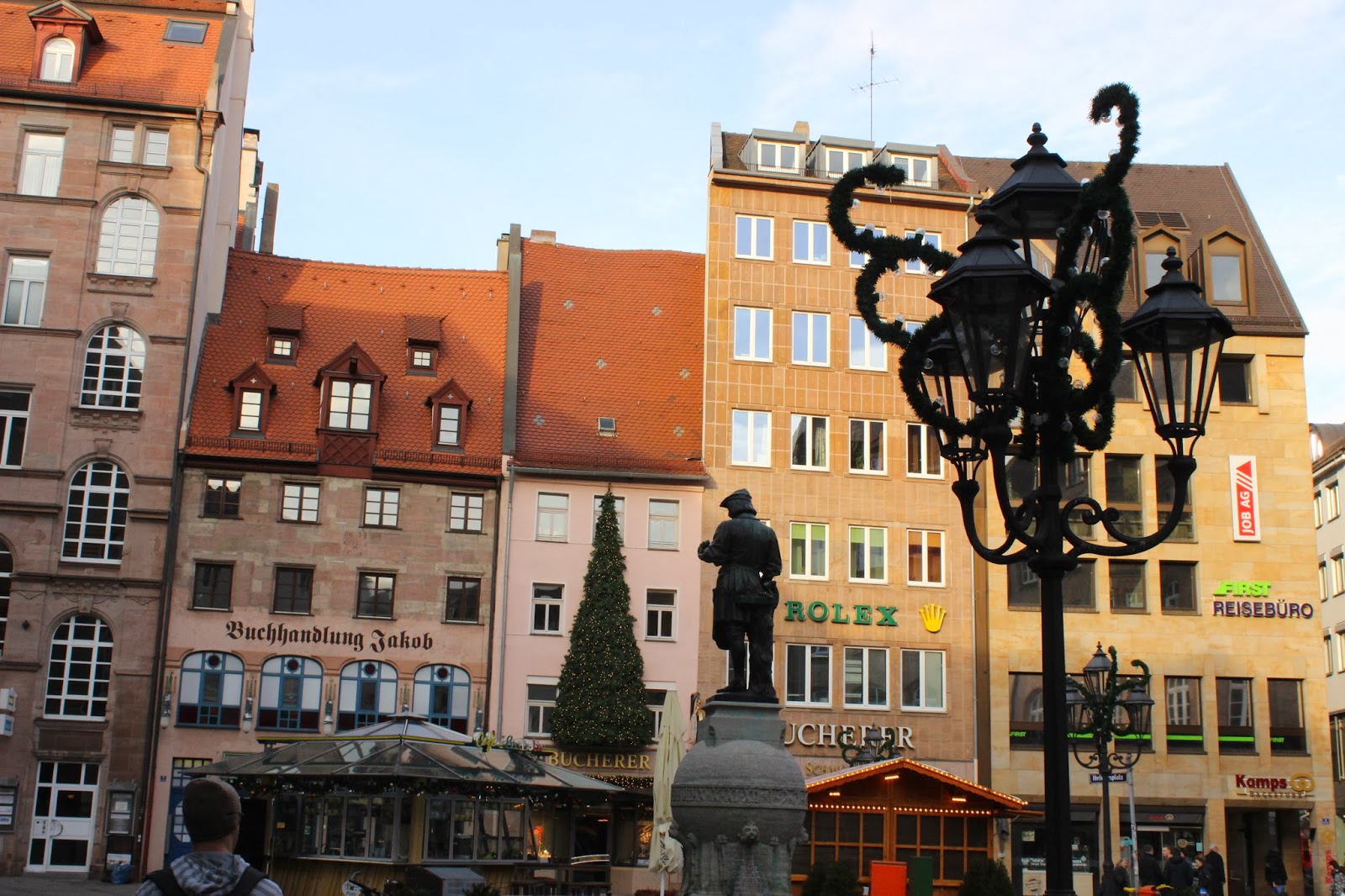 We arrived a bit later than we had intended thanks to a technical issue on our train to Frankfurt, but fortunately, we arrived just in time to catch the next train headed to Nuremberg.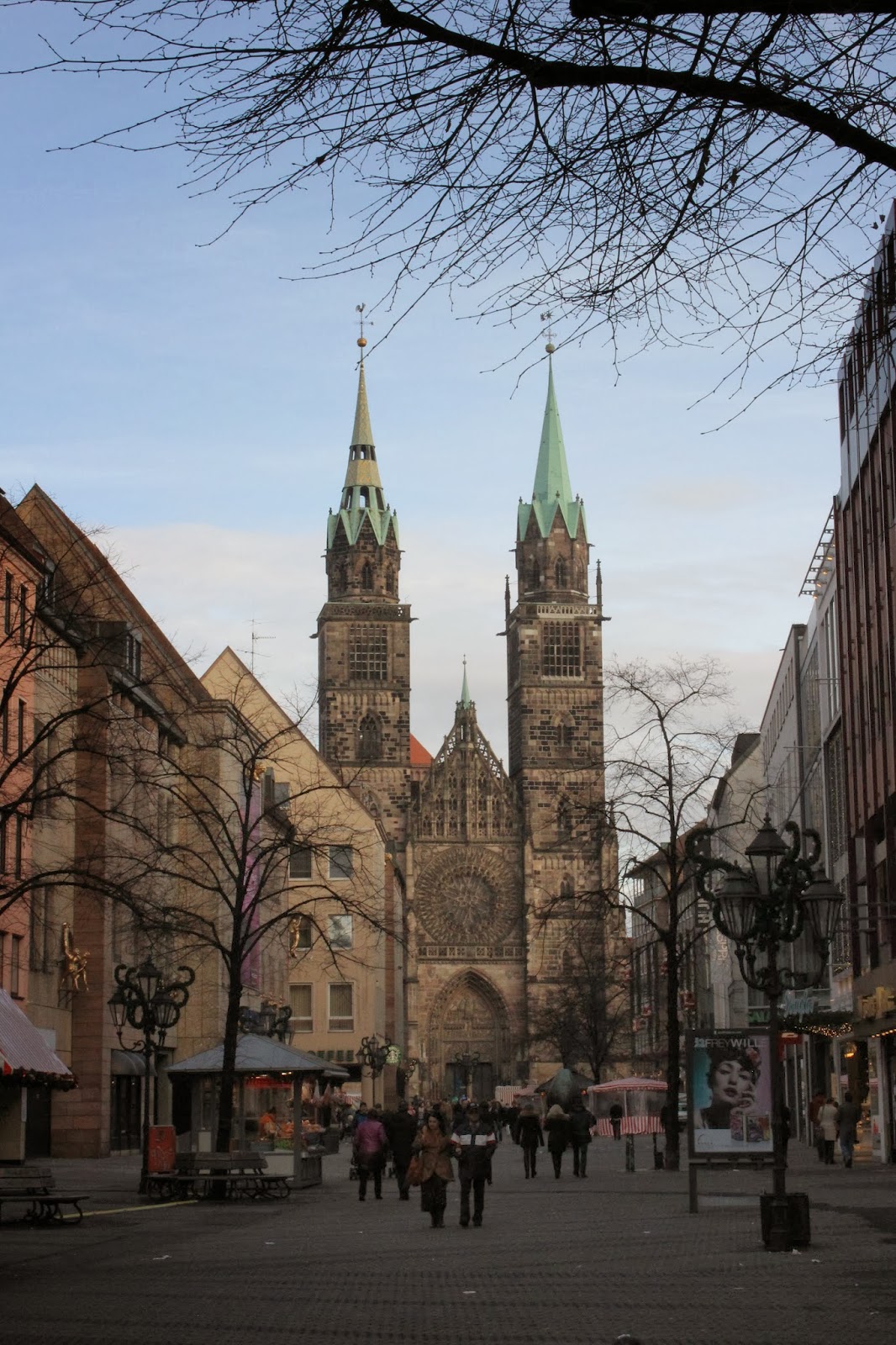 A quick drop-off of luggage at our hotel and we wandered passed the garrison walls in search of the market nestled in the center of town. On our way, we grabbed some Nuremberg and Frankfurter sausages to content our empty stomachs. The Nurembergs were smaller links than the usually served bratwurst and you got three in your bread rather than one. Colton doused his in ketchup and I added some mustard to mine (German mustard has a bit more kick than your typical French's) and we continued on our way.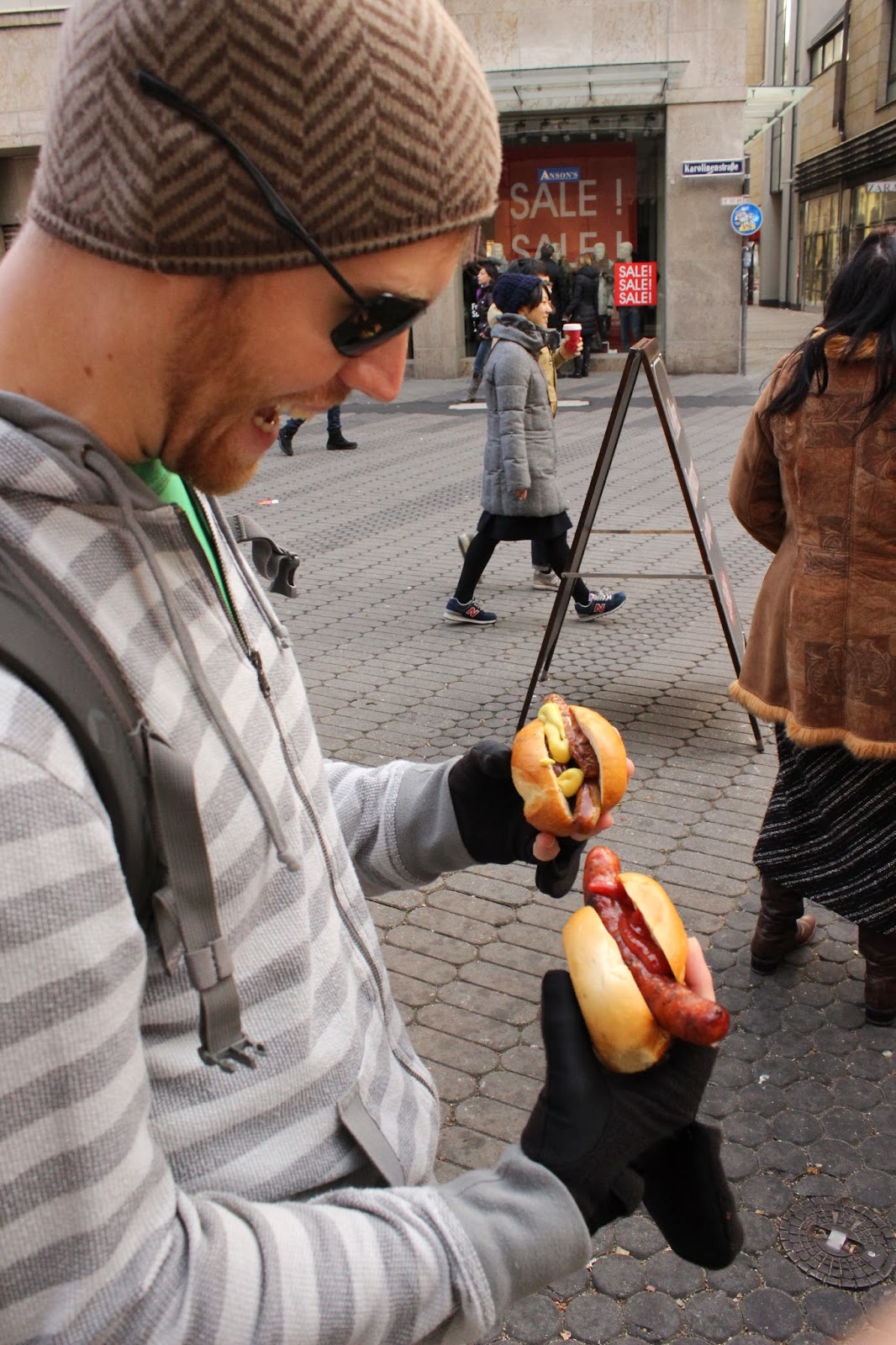 The packed market filled the town-center square, and gave a lot less elbowroom than we had experienced at Brussels (and that wasn't even much).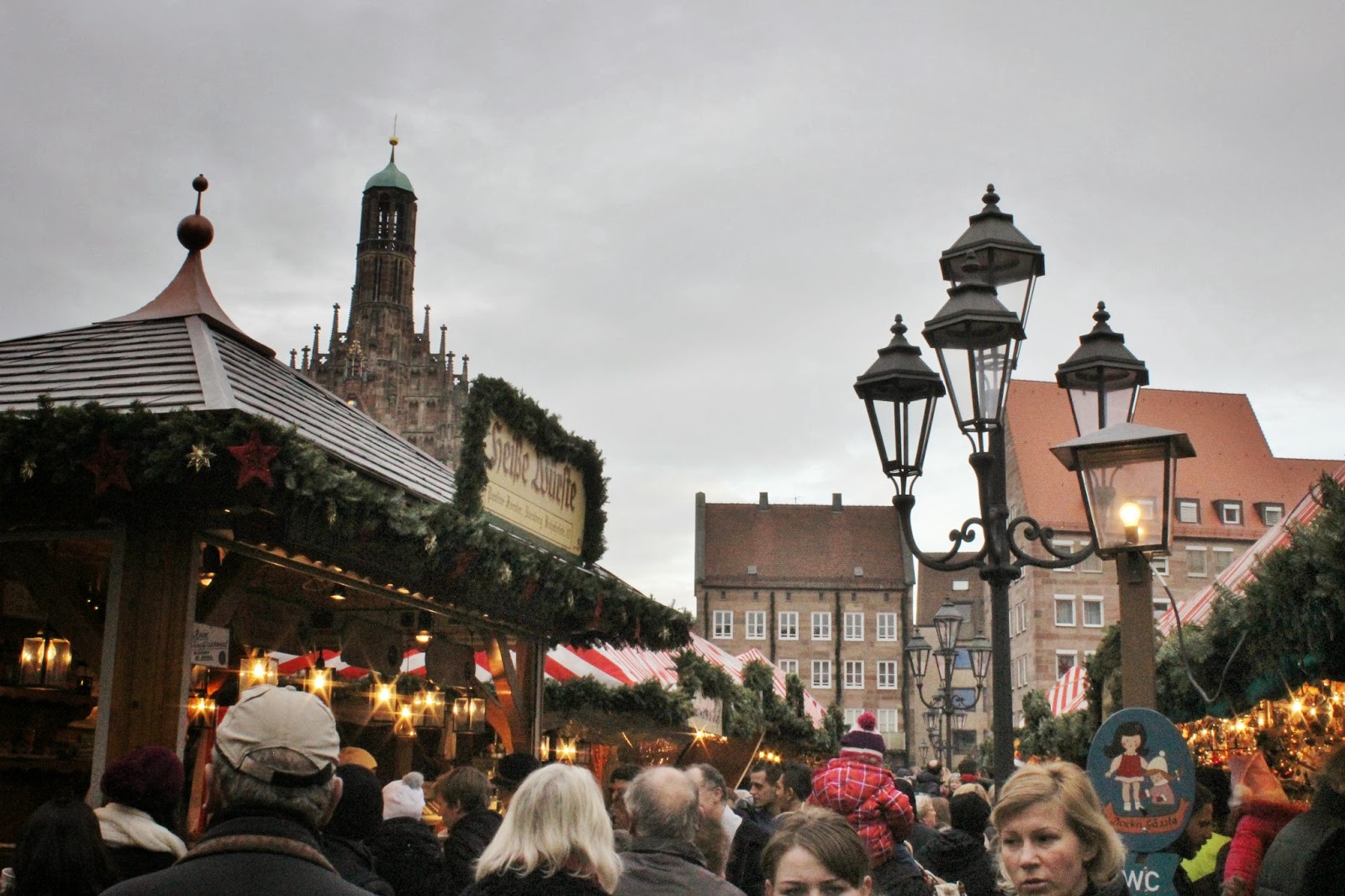 There were rows and rows of stalls, primarily handcrafted and native wares but my eye did catch a few mass-produced items that didn't fit with the other wares.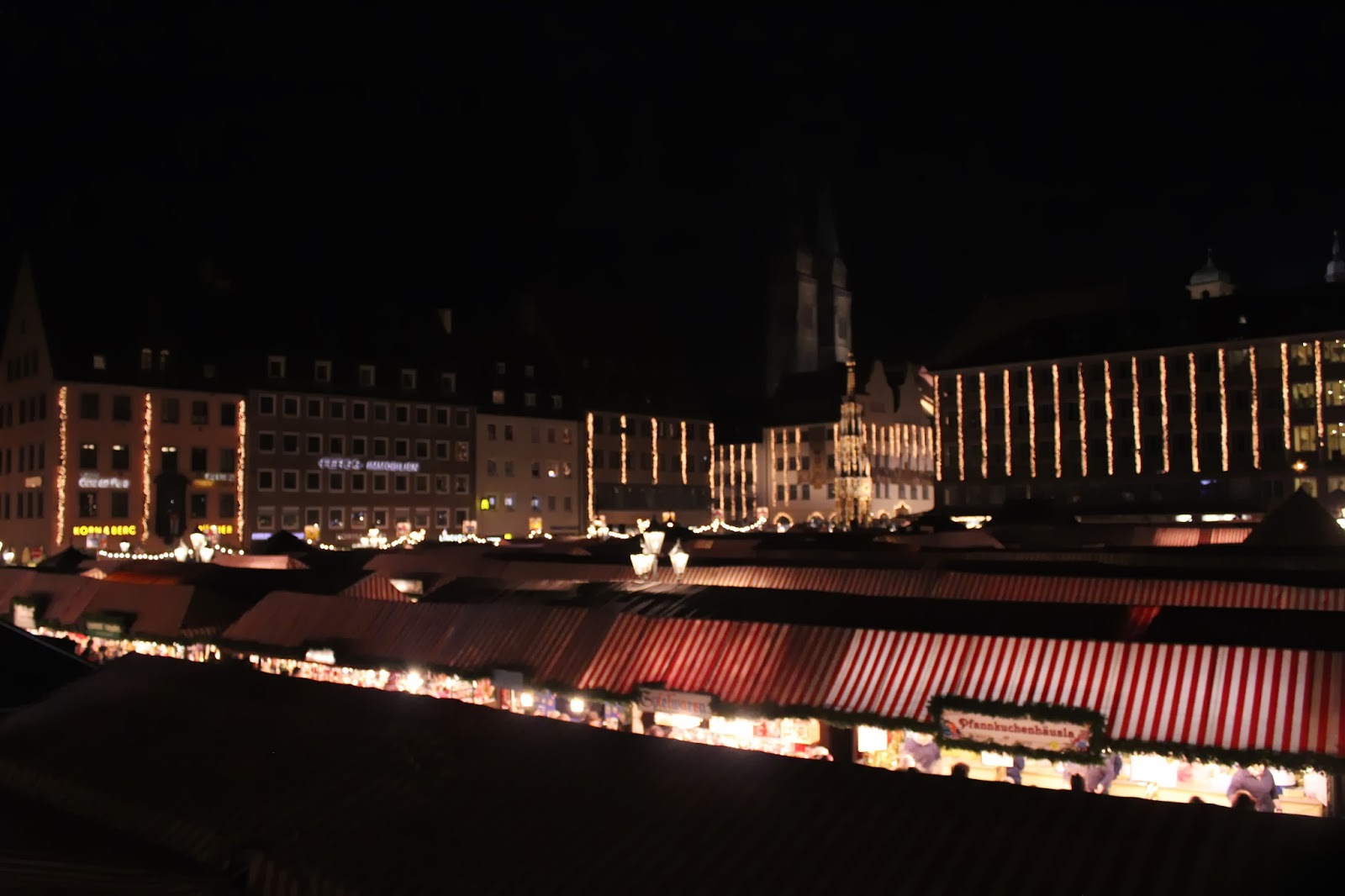 Something you will see everywhere in the market are the mugs. Hot drinks—mulled wines and such, are everywhere at Christmas markets in Europe, and rather than serve hundreds if not thousands of drinks in disposable cups,  you pay a deposit (usually around 2 euros) and get your drink in a commemorative ceramic mug—which you can have refilled at any stall once you've finished your first round. Don't want to keep it? Turn it back in (as long as the stall uses the same type of mug) or keep it as a souvenir.
Aside from the sausage, Nuremberg boasted of two other culinary treats—Lebkuchen and Feuerzangenbowle.
Lebkuchen is essentially German gingerbread. Although, since I don't regular consumer gingerbread, I can't offer a comparison. This stuff was a delicious treat—not too sweet, not too "spicy"—and can in dozen of options from plain to cover in a varieties of chocolates, with nuts—you name it. We had a white chocolate one and later satisfied our sweet-tooths with one covered in a strawberry icing. My only regret was that we didn't get extra to have for later!
After we covered more of the markets we came across a rather busy café that was also serving a variety of drinks to market-goers, and I excitedly saw that they served eggnog—something I had not come across yet while we had been in Europe and thought I would have to go the Christmas season without. We got a cup and I quickly remembered the Germans fondness and high tolerance for alcohol. Colton took one look at the cup, saw the beverage's yellow tinge, and immediately lost interest in the drink. I took one sip and can only say order it if you like hot alcohol with a splash of cream and some egg-yness.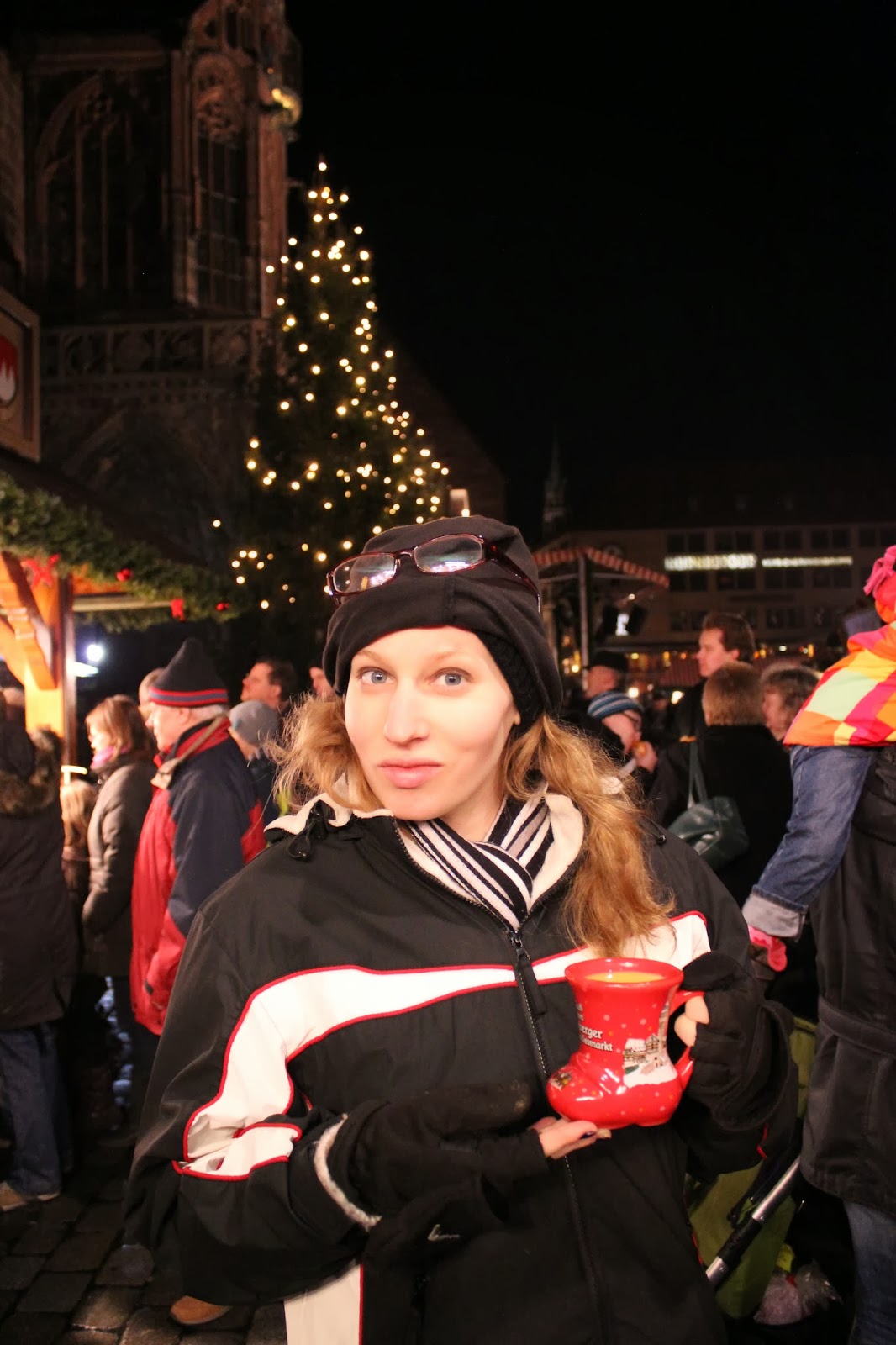 I should have kept that in mind when we stumbled across the Feuerzangenbowle stall. I had heard of this strange drink before and of course wanted to try the specialty of the area. It's different from other mulled wine drinks because as they make it, they take a rum-soaked sugar cone and burn it over the drink; the sugar caramelizes and drips into the big bowl of punch.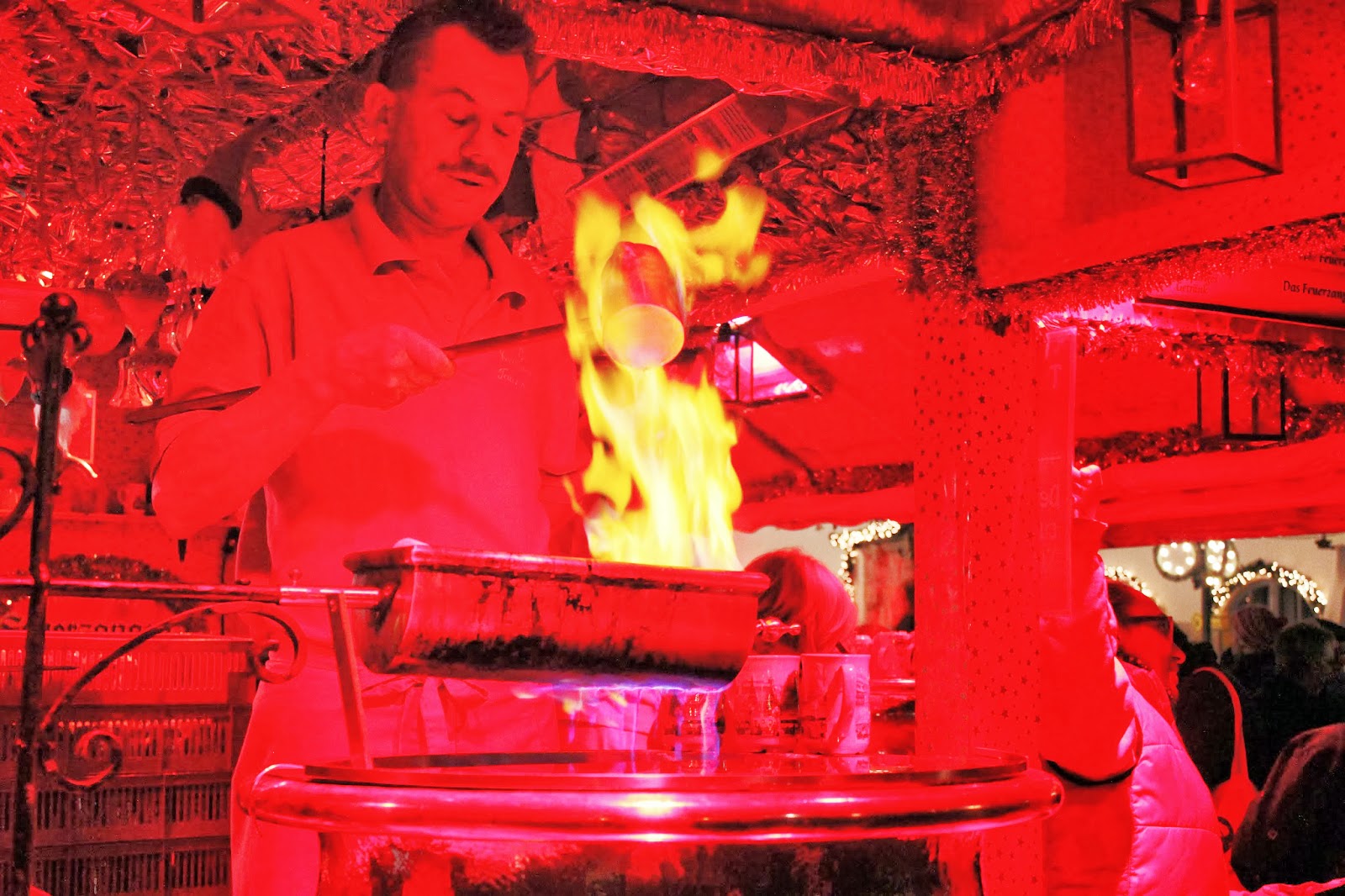 It was fun to watch them burn the cones, although you could see the man making it was tired of tourist taking his picture (interestingly, Colton and I had noticed more Americans at this market than any other).
Was it fun to drink? Um, no. Colton and I had to dip ginger biscuits they had at the stall in the cup to consume any of it—we hadn't had much before we caved, found a dark corner where no one was looking and dumped the contents, and returned the mug.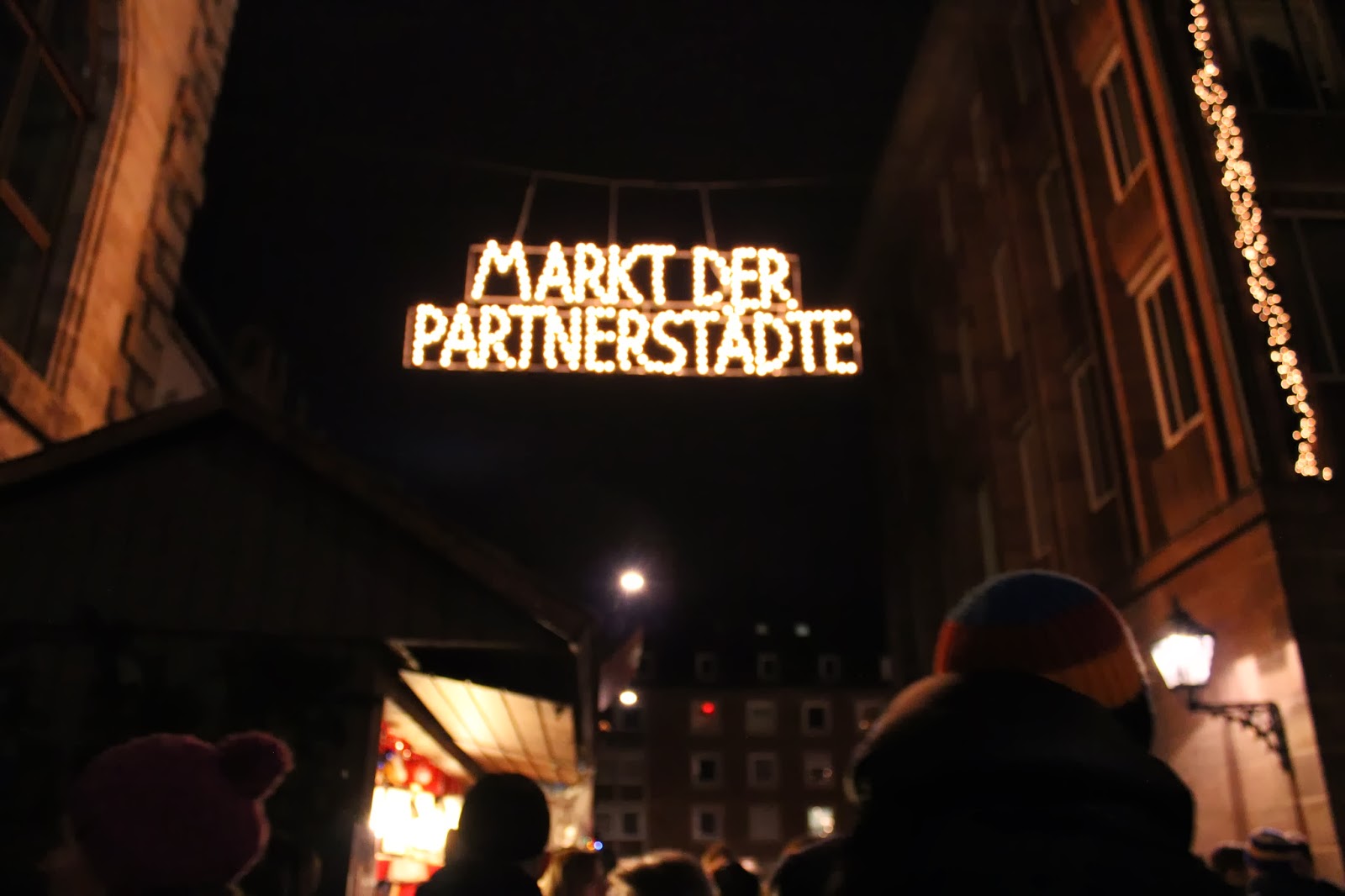 We returned to browsing and found ourselves in the "partners market"—stalls from sister cities of Nuremberg. We glanced at the various items from Cuba, Argentina, Italy, and several others. We stopped at the American stall to confirm that the rest of world does indeed believe that we only consume junk food. Our favorite was the Scottish stall, where we got our souvenirs for the city, purchased from girl originally from Ohio.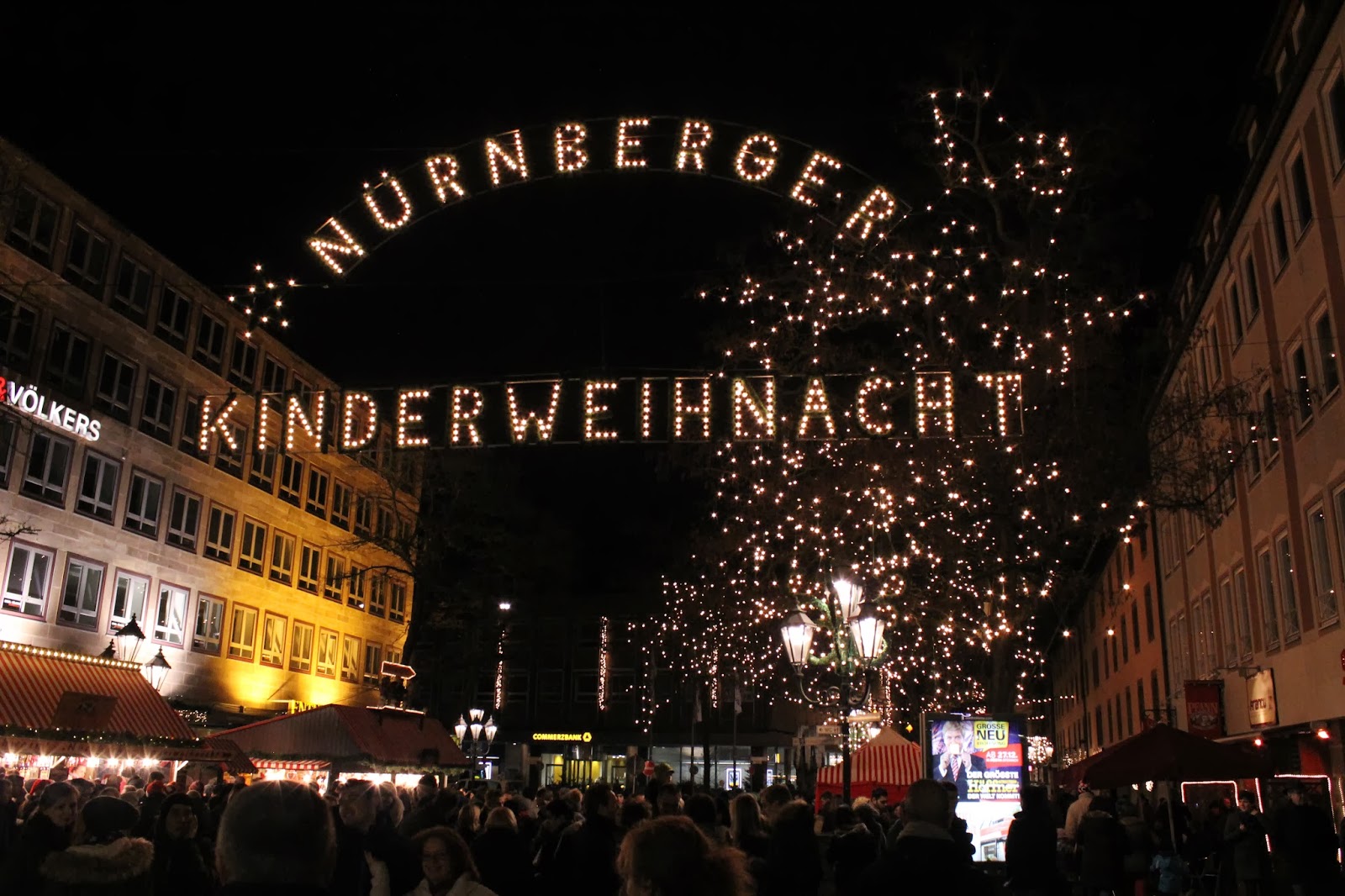 So yeah, not very German for ourselves, but this market was definitely my favorite as far as shopping. Although it was not 100% handcrafted items, everything seemed more authentic and unique that we'd seen at Brussels (and in Vienna); plus there were a variety of yummy foods to try (I forgot to mention corn on the cob covered in garlic butter, not fancy but it hit the spot), so I would high recommend a quick visit to the Nuremberg market if you make a tour like we did.