Whether you've decided to start attending bridal shows to diversify your reach and have no idea where to start, or you've attended them before but just feel like your setup is missing something–this post is for you. I've taken everything I use at shows and separated them into 5 different categories, and now I'm going to walk you through the whats and whys of your booth setup.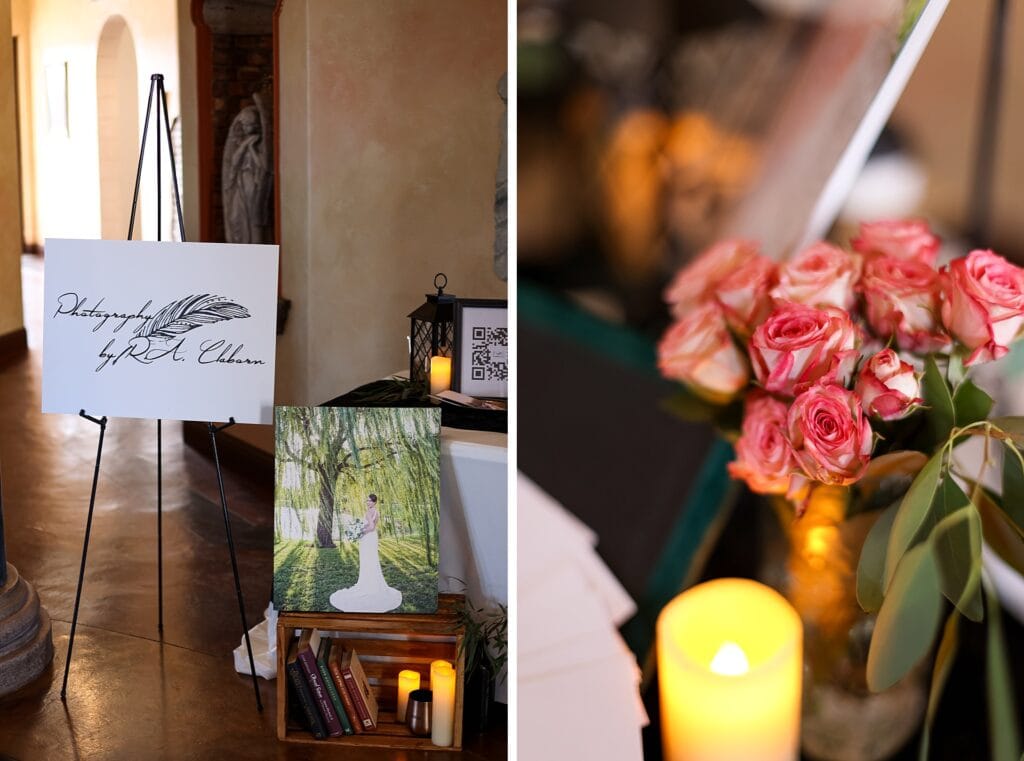 Foundations
Literally what your booth is composed of. Could be as simple as one table or as elaborate as an entire room. I suggest slowly building and adjusting to fit your brand (and budget), you don't want to majorly invest in a setup only to realize it doesn't work for you. I am going to include linens in this category as well because I feel those give you a bare minimum professionalism; however, the fabric, color, and style of your table covering can also be closely tied to your brand–but a simple white floor length covering is a perfect start.
Make sure you know whether your show is providing a table, what's its size or shape, and how much area around the booth.
Promotionals
What are you using to show people your work? If you are a photographer, I HIGHLY suggest you have physical copies of your work, not just digital, this could be loose or framed prints, wall art like canvases or metal, and also albums. The key here is to not overwhelm couples with your work. Choose a handful of select work you are proud of and want to continue doing (if you don't want to continue working hotel weddings, do not showcase hotel weddings in your promotional work). Same for digital slideshows, I suggest 20 images MAX, 10-15 would probably be the best. 
The goal is to show a limited amount of work so they are wowed by the individual pieces and not just notice the number.
Information
How are people going to actually learn about your business, or be able to look it up later? You can be as simple as a business guide, a QR code, or give more details with a brochure or magazine-style guide. If you like marketing via email you can have an info sign up sheet to reach out to leads directly after the show–and thereby you don't have to wait for them to come to you–just make sure you have GOOD pens. And don't forget about a sign, people need to know QUICKLY what it is that you do–this will also reduce time spent talking to those who don't need your services.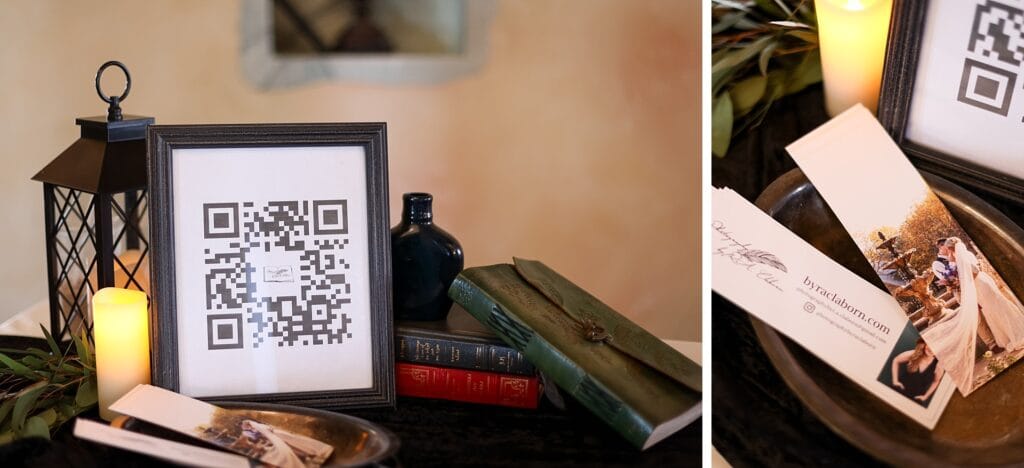 The Unnecessaries
Decorative items! Table runner, candles, flowers, books, etc. These are all items on my table that I'm cheekily calling "unnecessary" but I can tell you I have absolutely caught the eye of a client because of my odd books choices like Doctor Who's FairyTales, and bonded over that before we ever discussed my photography. This might work as well for businesses that are literally supply decor items, but I highly suggest looking for little ways to slip in some personality so your business stands out among others.
The Survivals
These items are for you! We learned after a show or two, there can be A LOT of walking to unload our booth, so we soon acquired a collapsible wagon to carry most of the items; I'm also a fan of collapsible crates to make holding everything easy but taking up little space when they're not in use.
Bring water–you'll be talking a lot–and snacks. Usually there will be caterers with samples, happy to share with other vendors, but there might not be; plus a four hour show could be more like 6 hours for you, and ya might want more than a mini cupcake to tide you over.
Lastly, if the show hosts aren't providing chairs, bring one for yourself! Our last show I didn't sit down until 3 hours in and I was so tired! We had chairs nearby but because they weren't by our booth I would forget to sit down once in a while.
Bonus: You!
Literally the most important thing in all of this? You! The biggest advantage of bridal shows is couples get to meet their prospective vendors in person! For vendors like planners, photographers, videographers, DJs–service based roles on the wedding day that spend a lot of time interacting with the couple, this meeting is crucial.
To make the time a little easier on yourself, I also highly recommend having someone else with you so you can talk to more couples throughout the day and have someone who can give you breaks; it's great if it can be a consistent second shooter, assistant, or someone else involved in your business, but even a friend who's been education in how you business operates can be a great help!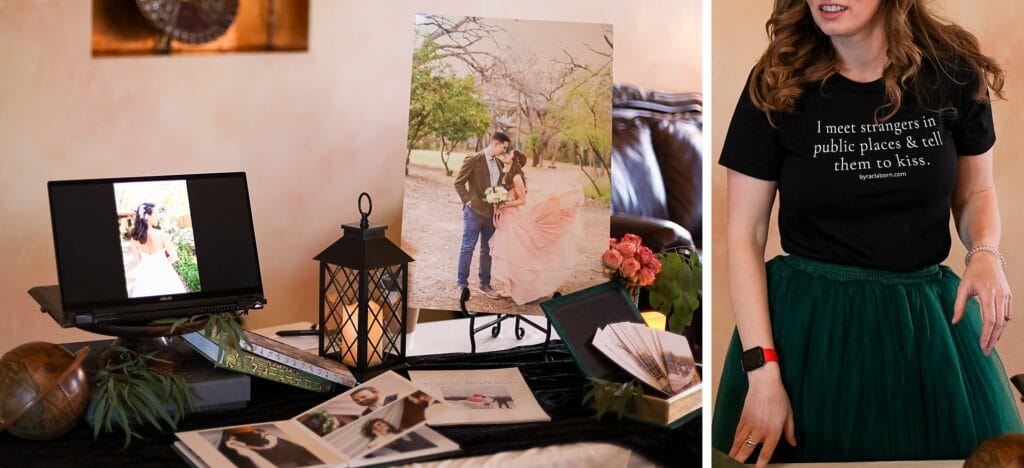 A few things to note about our set up:
It changes a little every show, I'm always tweaking my materials and what I bring. Also, we're actually missing a few things in this: my runner is a back up (normally mine is green), I have a second runner of book pages in the middle, and there are normally other books I bring that are more cohesive in color.
I'm wearing my "show uniform": a green tulle skirt plus a cheeky custom tee. The skirt is my brand color, and the fluffy tulle + funny job description showcase how I like my clients to have fun and not take things too seriously.