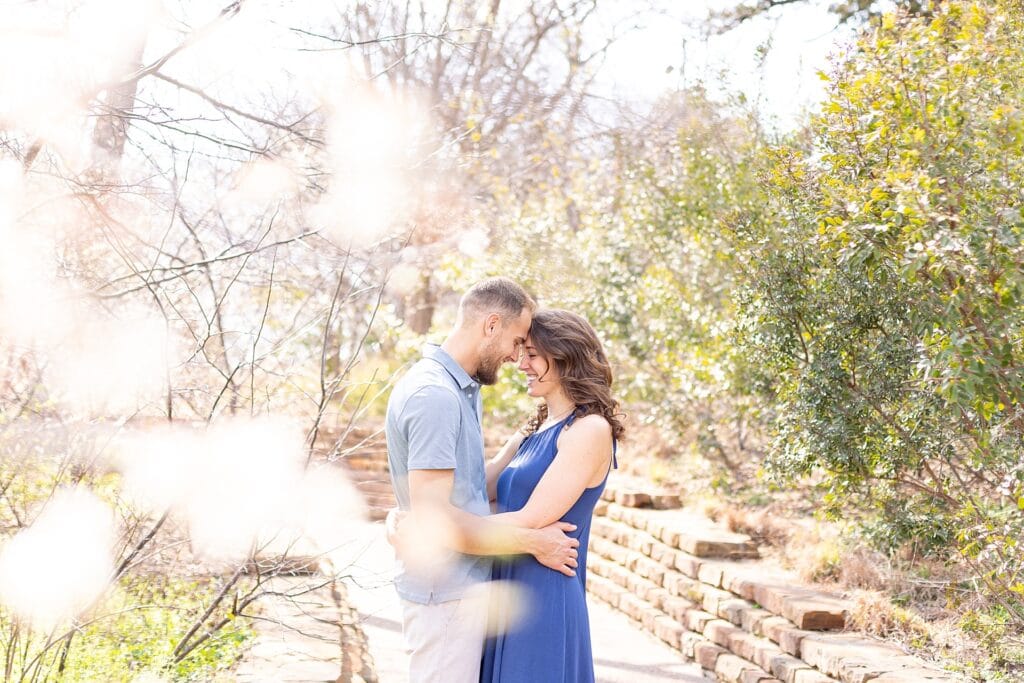 It's been ages since I've gotten to fully explore the Fort Worth Botanic Gardens–the last session I photographed there, we mostly kept to the conservatory for fear of rain. So I was delighted when Lauren and Bryan said they wanted to have their session there, because that meant I got to look for all the fun spots for portraits. Lauren and Bryan chose this location because it's where they had one of their "bigger" Texas dates. I say Texas date, because Lauren is from Texas, while Bryan is from Paraguay, but they met in the Middle East thanks to a mutual affection for volleyball. In summary, it was a God thing.
My biggest challenge during this session was to keep their locations from looking too manicured. These two are outdoorsy and adventurous, so we needed to balance that with shooting in this sentimental location.
The challenge I did not have was posing these two, because I would put them in the spot with good light and they immediately would snuggle up. By the last location, I turned to Colton and said, "there's really no point in me giving them directions, they are already doing what I need." Not to mention, they felt like old friends almost immediately; it was definitely one of those sessions where it seemed the photos were getting in the way of us just hanging out–and this may sound counter-intuitive, that's one of the best feelings for us on a shoot because everyone's relaxed.
We can't wait to photograph their spring wedding at Dove Ridge, it's going to be a beautiful day for two beautiful souls.