Hello dearies,
Today I have a real sweet Q&A for you (sorry, that pun was obvious but it had to be done). 
Katie is the owner of Bouquet & Cakes, a DFW area bakery. She made this gorgeous wedding cake for Shana and Drew's rustic-meets-glam Disney wedding, and let me tell you, I still think about this cake; it was so moist! the texture was just *chef's kiss*.
The other wedding cake I still think about was a red velvet at Colton's cousin's wedding, it was delicious but he pulled me away for dancing before I got to finish AND THEY CLEARED THE TABLE WHILE WE WERE GONE. still mad. 
Anywho, please enjoy this Q&A with Kaite, the maker of a wonderful cake I did get to sit and enjoy.
Always,
Rebekah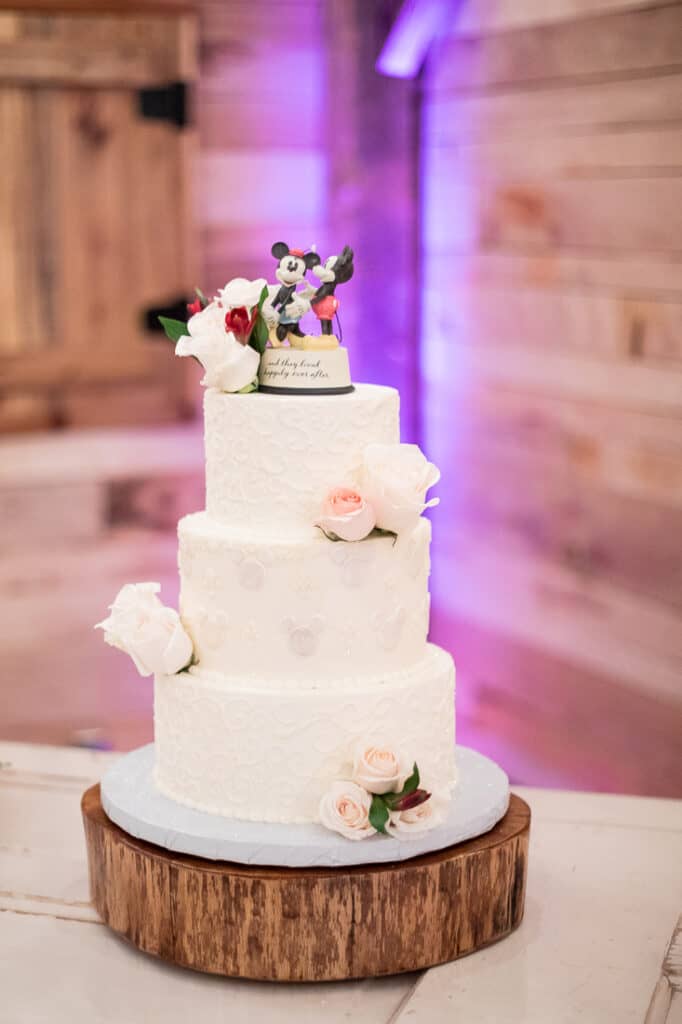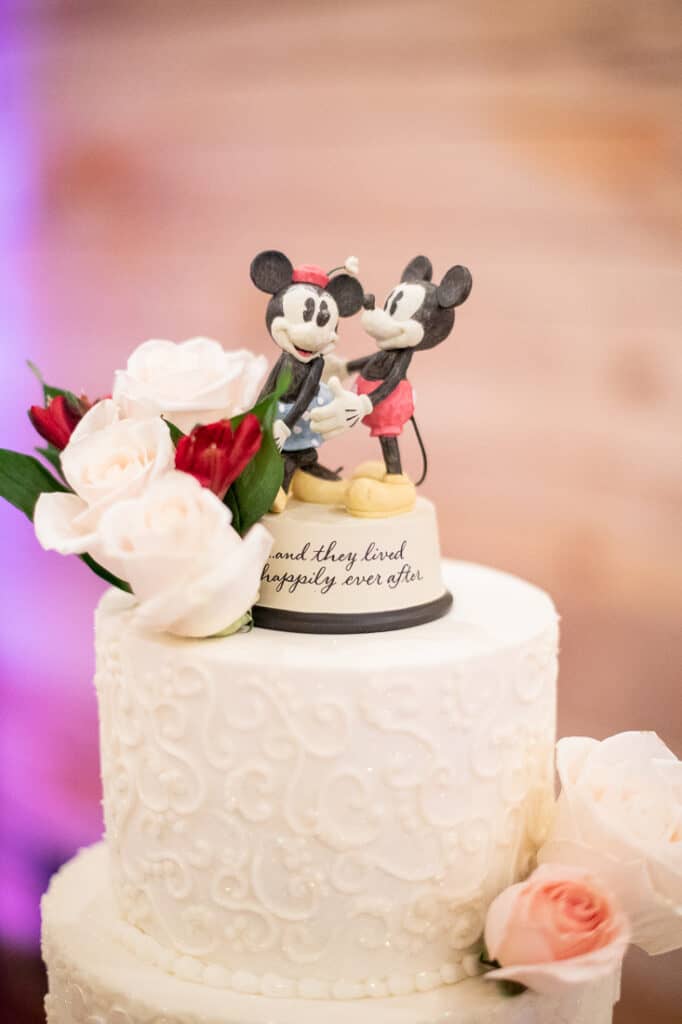 I was born in Chicago, IL and we moved to Texas when I was 5. We moved to Vermont for one year when I was 7 and we have been back in Texas ever since. This is my home. I am a proud Texan! I am a wife to my high school sweetheart- we are coming up on 20 years. I have 3 amazing kids- Nick, Alex & Olivia (21,16,14). I love all forms of art. I love seeing how people express their truest self through their art; whether it be music, dance, baking, decorating, restoring furniture, restoring old cars, designing buildings, painting, drawing- I am fascinated by all of it.
How did you become a baker?
My mom's family is Italian and cooking and baking is everything. I grew up knowing the importance of a good dessert so it was very important to me to create made-from-scratch cakes that people really enjoyed eating.
What services do you offer?
My unique idea of "Bouquets&Cakes" is what I specialize in- cakes with a vase of fresh flowers in the center. The flowers decorate the cake, then when the cake is gone, you still have a vase of fresh flowers as a keepsake.
I LOVE doing wedding cakes! I love the entire process- especially getting to work one-on-one with the bride. I also do birthday, anniversary, shower cakes. I don't do a whole lot of character cakes or carved cakes. In addition, I offer cupcakes, mini cupcakes, Chocolate covered marshmallows, chocolate covered strawberries, oatmeal raisin cookies, chocolate chip cookies, coconut macaroons, banana bread, pumpkin bread, and keto muffins.
When should brides reach out to you? (or anyone wanting a custom order)
The earlier the better on wedding cakes! At least 3-4 weeks for wedding cakes- preferably 8 weeks
For wedding cakes booked 6 months in advance, I offer a free 1 year Anniversary Bouquet-Cake.
What is the cake ordering process like?
For brides, I'd like to do an in person consultation and tasting. Unfortunately, Covid has changed some of that so I have brides pick up their tasting and we do a consultation via FaceTime. I like to speak to the brides face to face because I like to get a feel for their personality, their style, and their likes and dislikes. It helps me to do a better job designing their wedding cake.
What tip(s) do you have for brides when it comes to picking out their cake?
Be picky! I think a lot of times brides feel like they have to not be picky because they don't want to be labeled as "Bridezilla" but when it comes to the details and artistry of the wedding, they have every right to nail down even the most minute details.
Are you a fan of the naked cake trend?
I do like naked cakes because I'm not a fan of icing- it's too sweet for me! My favorite naked cake trend Is alternating tiers of naked cake with tiers that have textured icing.
What are your favorite types of cakes to make?
My favorite is when I get to make a Bouquet-Cake for someone's wedding cake!! I LOVE that! I have done them before where the top tier is a Bouquet-Cake and it holds the bride's toss bouquet! It's such a fun concept!
Anything you'd like to add?
I love people. I love taking care of people. I have a background in nursing and that sticks with me in everything I do.
Where can brides find you? (instagram, facebook, website)