Now I normally wrap up bride and groom portraits, with "we're done, It's party time!" However, there are still a few things you can do to maximize your reception photos, thankfully you can tackle much of this ahead of time.
Here are a few things to have in mind to set your wedding reception up for photographic success.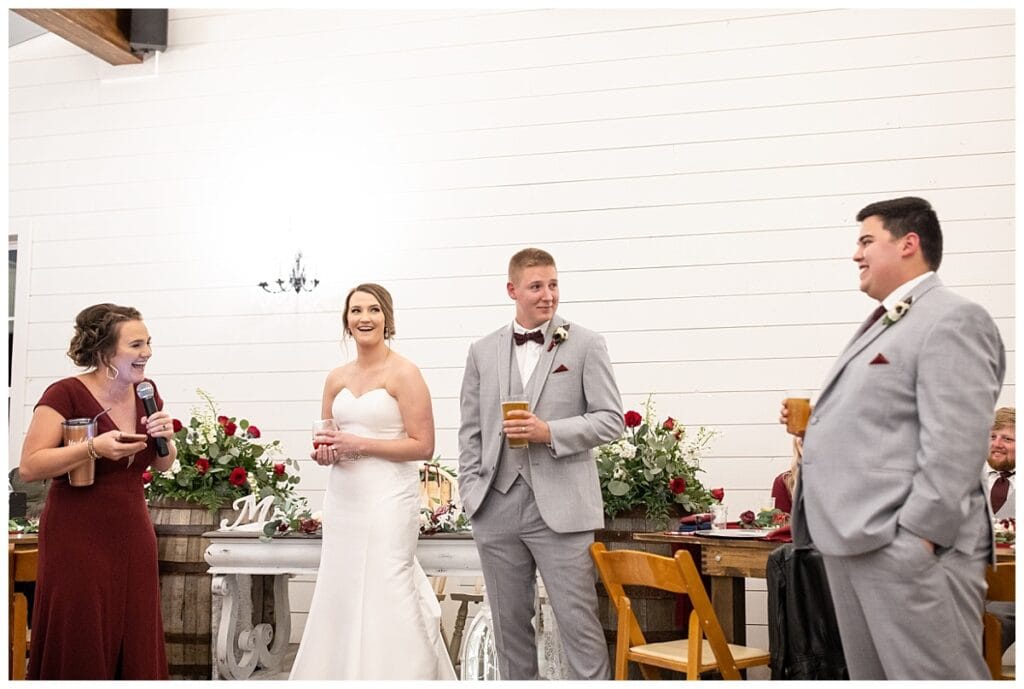 If possible, have the toasters stand near you so we can get your reaction and them speaking in the same photo.
First Dance? Find Your Photographer!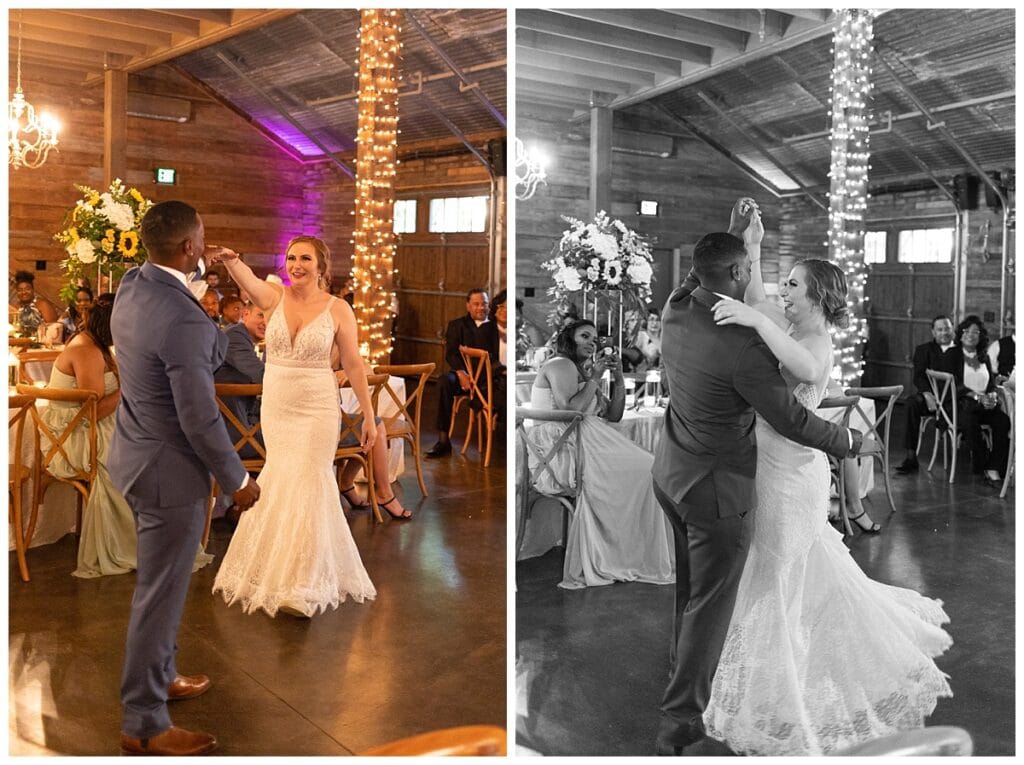 Are you doing the 8th grade sway or something choreographed? Let your photographer in on what you've got up your sleeve so we can plan accordingly. Depending on the venue, your photographer may have limited spots to stand when photographing your special dances–especially if they're doing their best to not be in the way of guests. So if you got any major moments–like a dip–make a mental note of where your photographer is standing so you can angle yourself for that awesome shot.
Is your DJ bringing a fog machine?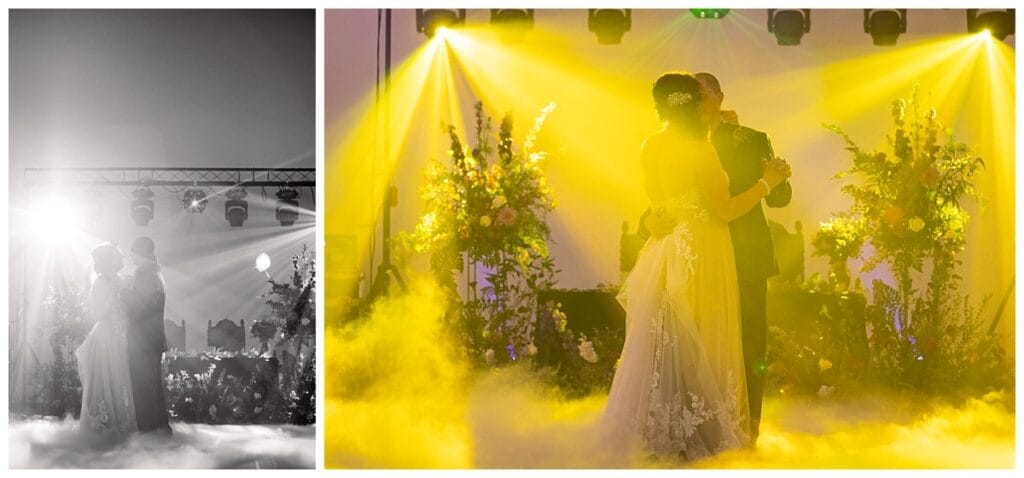 Do they have it set up to keep the fog on the ground? Awesome, will make epic photos. Will it drift up in the air and make a haze? Let your photographer know as they may have to change their set up (and be limited with how they shoot)—we had to change our flash set up and could only photograph through certain angles
Be Open to Slipping Away...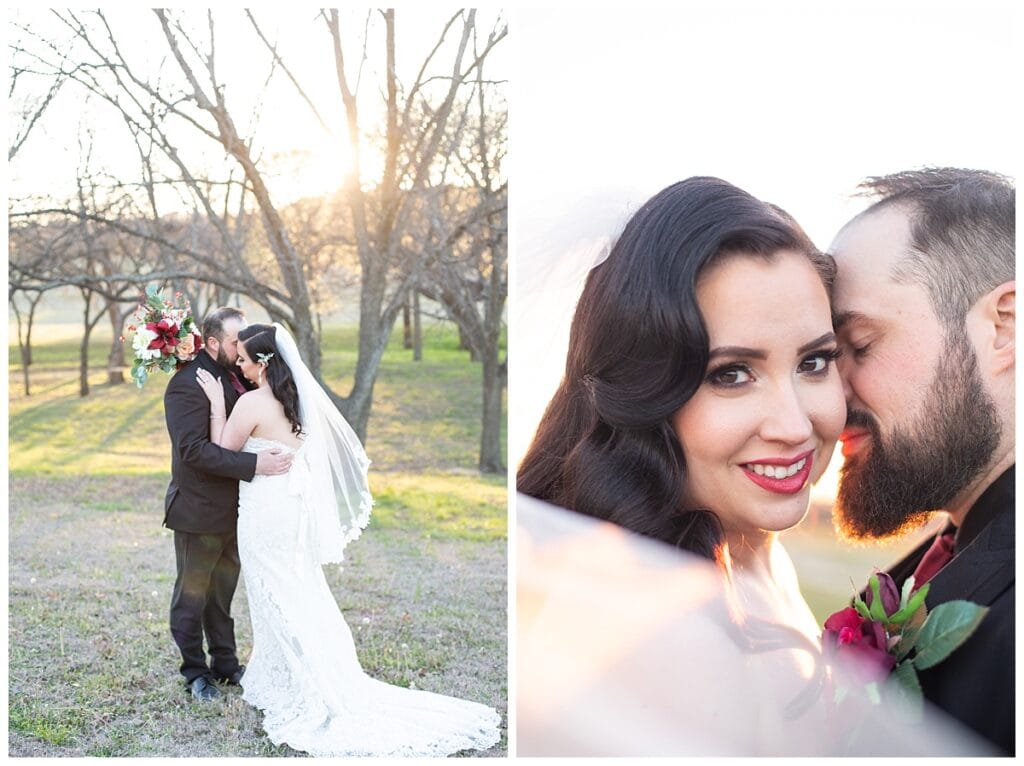 Depending on the timeline for your wedding day, and the time of year, your portrait time right after the ceremony may not be during golden hour; so be open to slipping out for a few minutes to capture some romantic portraits with that gorgeous sunset glow.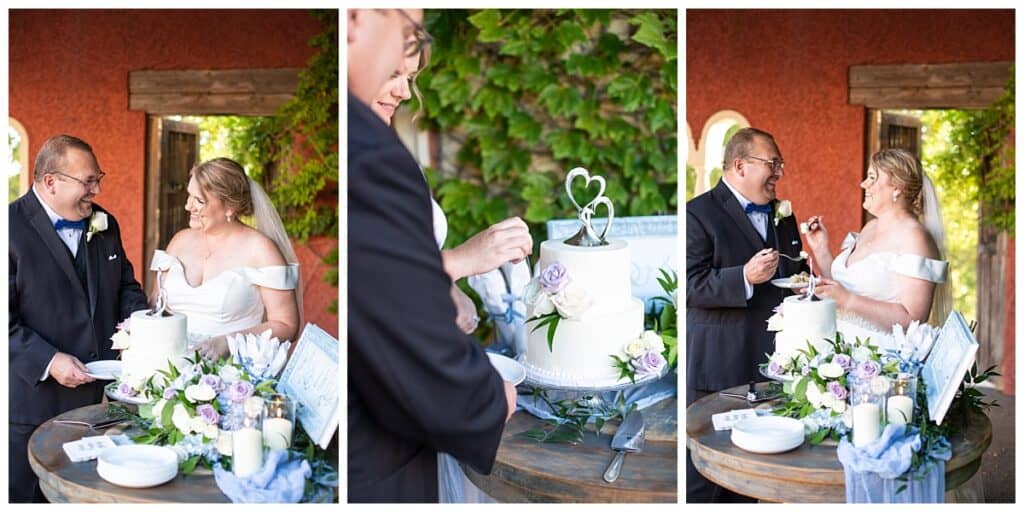 I see about a 50/50 breakdown when it comes to guests watching the cake cutting or not. Your venue may have a typical spot where they keep the cake. This is fine but sometimes it can be a small space, which will make it difficult for your photographers and your guests to see the cake cutting. So think ahead of time if you want the cake positioned for you to have an audience or just your photographers.
Also, if you completely blank on how to cut your cake, don't worry, every couple does. Just remember, you have used a knife before, or just ask your coordinator or photographer what to do, we don't mind.
In most photographers' contracts, it's stated that you must feed them during the reception (if your wedding photographer does not have a contract, run away!); here's when and why: your photographers and videographers need to eat when you eat so they are done eating when you are—this keeps us available to document all the reception moments we might miss if we're served later.
If you're debating whether to have a seat set for your photographer with your guests, ask them! Some love to sit with guests, personally I like to have a quiet nook to scarf down food and start uploading images.
Consider a Controlled Exit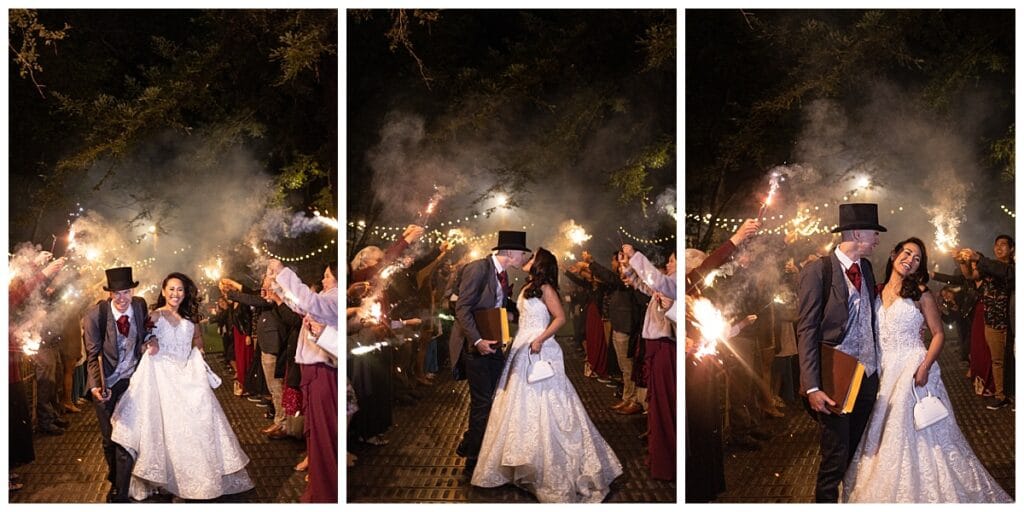 A Controlled exit can also be called a fake exit. During open dancing we slip you, your immediate family, and your wedding party outside and have you "exit".
Three reasons to consider a controlled exit : 1) save some of your budget by not needing the photographer there the entire night (trust me, you do not need 3 plus hours of dancing). 2) by having the controlled exit mid-reception (usually after open dancing starts), you get to avoid crazy end of the night things like having inebriated guests holding fire sticks over your hairspray-laden self. 3) because you're not actually leaving, we can have you "exit" as many times as we want to get the shot.
Very important aspect of a controlled exit: you never say the "e" word once the reception is going, if anyone asks, we're just popping out for some night time portraits; this keeps guests from thinking the party is over.