When it comes to weddings, I love helping brides be budget savvy, and thinking outside the box (it's one of my top tips!) Sometimes for the sake of your budget, you need to reduce or eliminate a "traditional" feature of the wedding day.
 Florals are beautiful but can also hike up your expenses. One way to reduce your floral needs is to create non-floral centerpieces for your reception. We collaborated with Casey of Rust & Relics to create 5 different flower-free centerpieces to inspire you when thinking outside the (wedding) box.
First up, a coastal theme. I'm a sucker for lanterns and candles, and these wooden pieces have just the right flair for a coastal themed wedding, add in some seashells and a green tablecloth (we chose green to have color but not be too "on the nose" as blue would be). Some pink shells would be great a touch if you want a extra pop of color.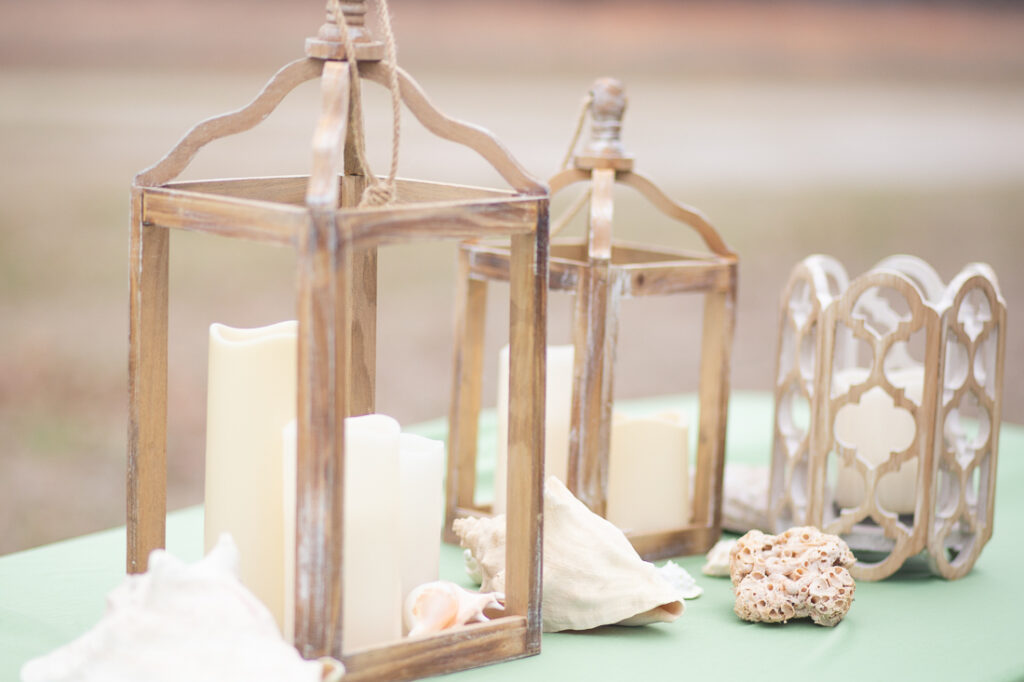 Elk antlers! Was not sure how we'd incorporate them but when I saw them in Casey's item list I knew we had to add them in. With mixed candlesticks for variety, and a velvet runner for texture and color, this centerpiece would be great for a head table with a medieval flair.
For more textures, add in some ferns. How fabulous would some big thrones behind this table with furs draped over them for the King and Que–I mean bride and groom!
My own wedding was the Phantom of the Opera met Jesus at a coffee bar, so I grabbed this mask out of our own wedding decor to pair with Rust & Relics's gold candle sticks. We went with a white cloth to soften the drama and some dried roses for a touch of color (so this one kinda breaks the "no flowers" rule, but they're dried soo they don't really count).
After lanterns, antique silver pieces are my favorite. The contrast of the books and the burgundy candlesticks have great pop for this classic and romantic arrangement. Kinda getting Beauty and the Beast vibes, anybody else?
Lastly, we have what we dubbed "The Woodland" centerpiece. Built around Rust & Relics Axis deer hide, we added their wood slices and a variety of candle holders for height and color; finishing touch was some greenery from michaels to give it just a bit more texture and contrast.