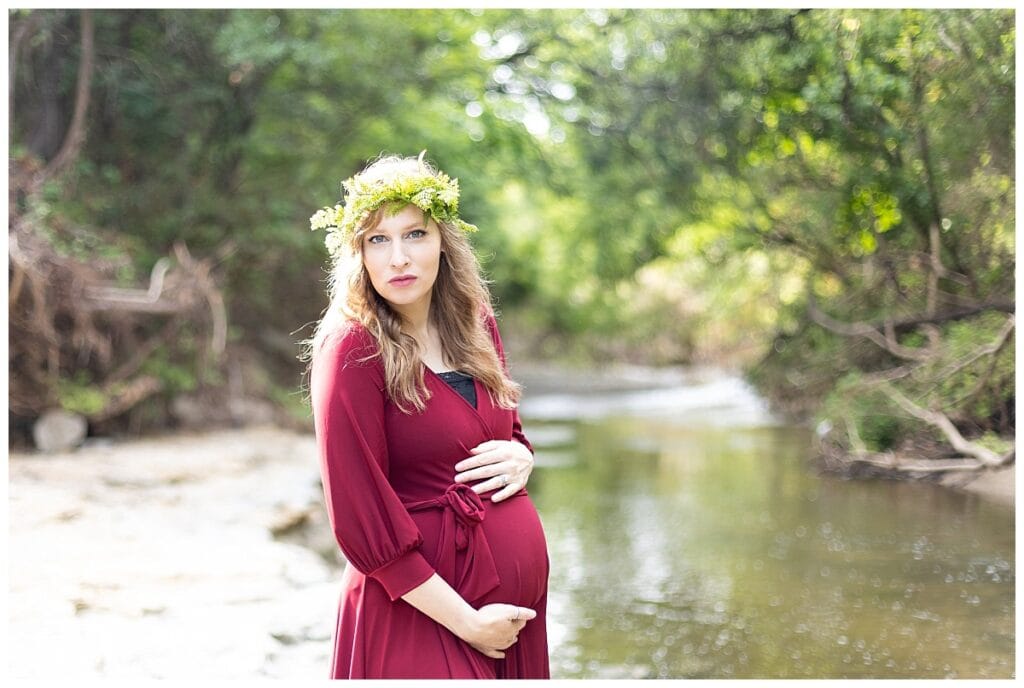 The night before my 37 week appointment, I lay in bed and could not go to sleep because my back hurt, the pain would randomly spike and I wondered if I was having contractions. Part of me was totally fine having contractions, because hey, I'm full term now! All my galleries were delivered! We'd gone to the baby shower! 
Pregnancy is one of those things that just feels like you've been FOREVER. I hadn't really allowed myself too much thought about having a baby in the house (crazy I know) because I was focused on taking care of my other commitments first; but once I hit 36 weeks, my brain just shifted and was ready for the next phase. Physically, I've been much better this time around, probably thanks to regular chiropractic visits so sleeping on my side doesn't wreck my back (also those giant pregnancy pillows are amazing).
But, we still hadn't taken my maternity photos, and I still have some thank you cards to write. So I guess it's good that the back pain did not turn into actual labor. 
So that morning, I did the awkward walk past people running on the trails while I rocked a flower crown and floor length dress, so we could do a quick session in a creek before heading to my doctor's appointment.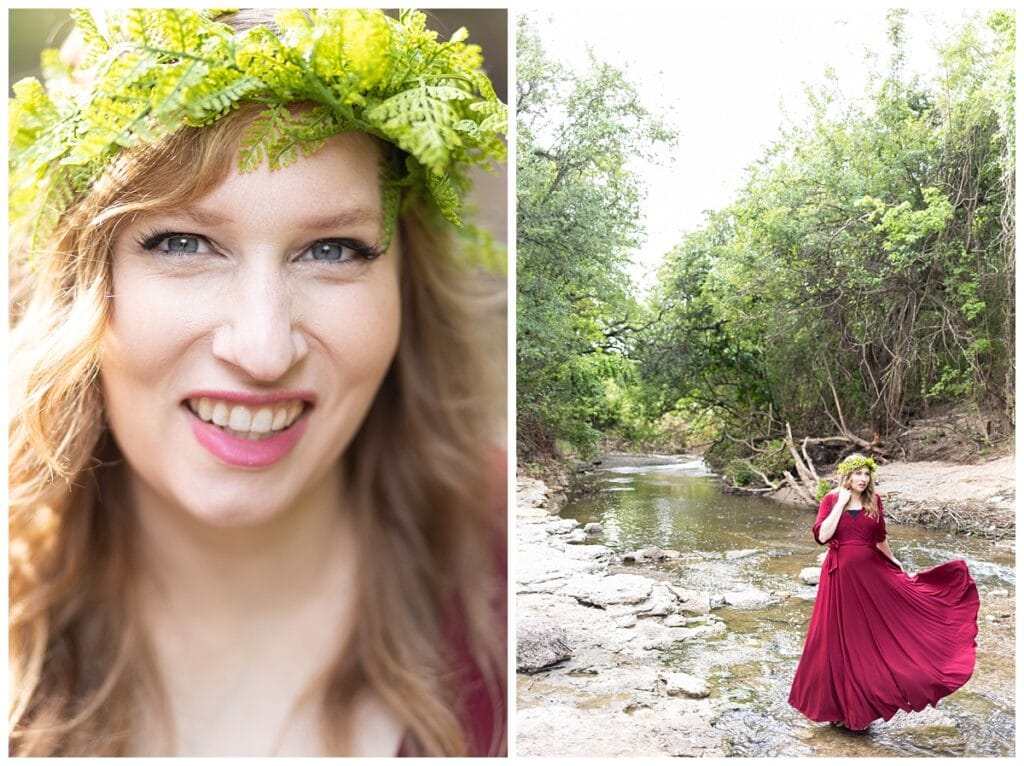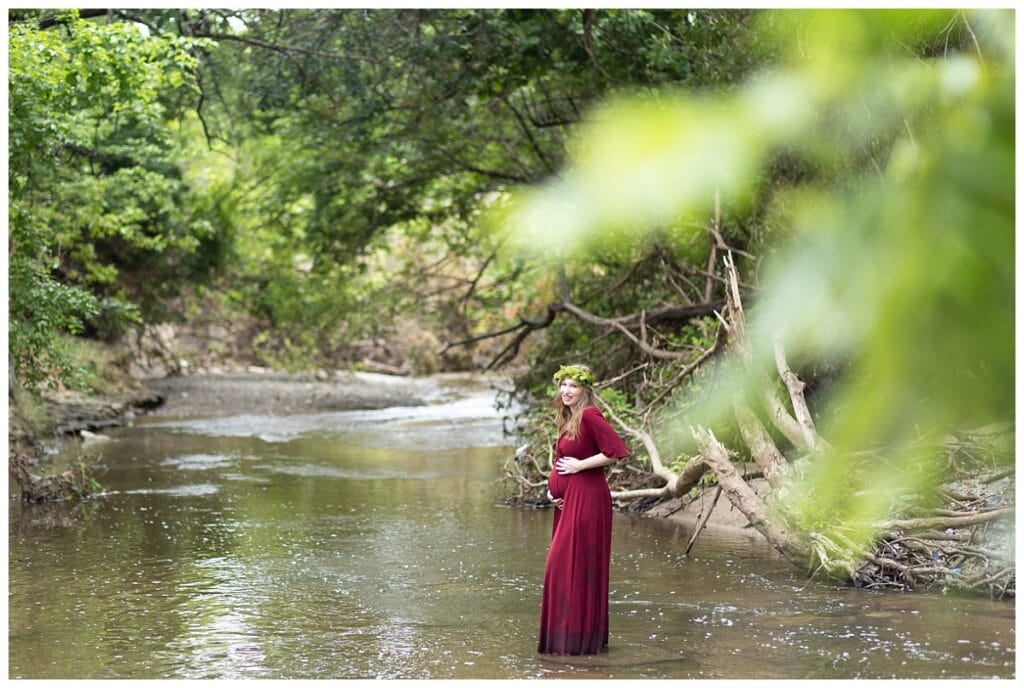 A few tips to rock your own maternity session:
Timing 
When to have your session is a good question, and for most mommas I recommend around 34 weeks–that usually hits the fine line of you clearly being pregnant but not yet feeling like a beached whale. This isn't true for everyone because I have to do mine in the 36-38 weeks range because my bump doesn't appear until I'm at least 20 weeks (literally took maternity photos when I was pregnant with Rowan a week before he was born). 
In a nutshell: time it just right to where you've got a decent sized bump but aren't quite popping out a baby.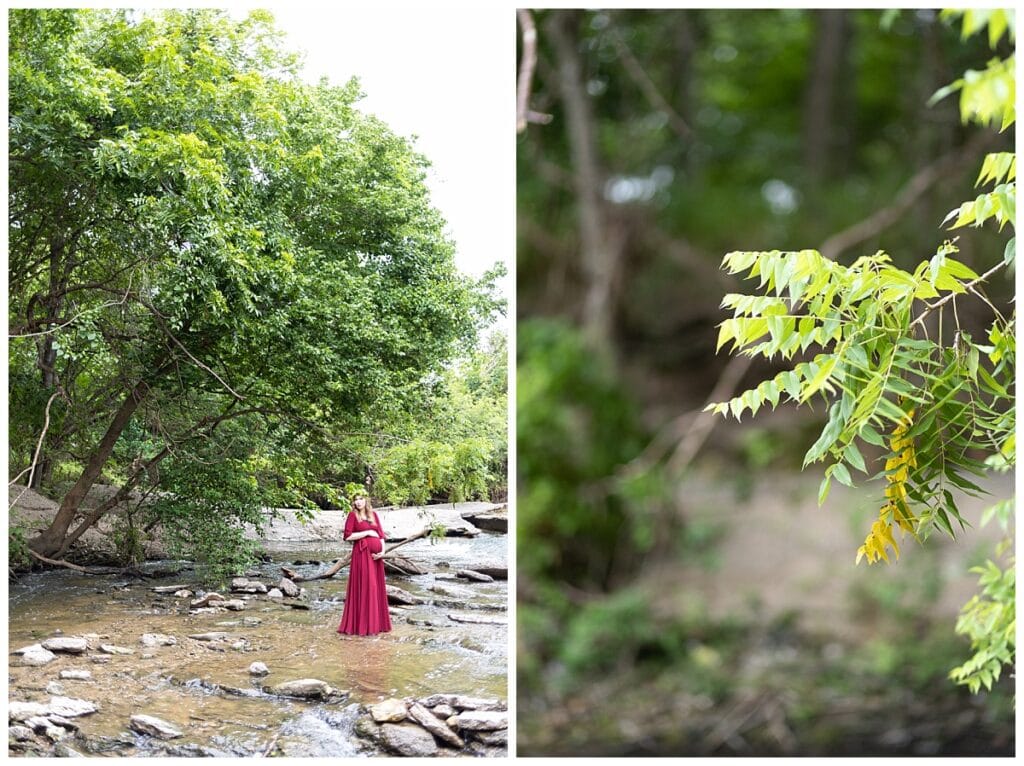 Wardrobe
This is a HUGE factor in your maternity photos. Choosing the right outfit(s) will not only impact the feel of your images, but also how you feel in them. A lot of physical changes happen with pregnancy (in case ya don't know) and it's best to be sensitive to that when choosing your attire–especially if there are things that make you uncomfortable or self-conscious.
In general, I recommend something with an arm covering or sleeves (I rocked a faux fur wrap with my previous maternity session) and going floor length with dresses. To paraphrase a friend during her second pregnancy, "everything is pregnant!"–it's not just your belly that experiences some growth, so it's ok to not want to show off your arms in portraits (but hey, if ya want to bare arms, have at it). Finding cute shoes that also accommodate feet that change size on a daily basis is difficult–floor length gowns add a more dramatic and romantic feel while allowing you to not worry about your footwear. I personally went barefoot in these portraits because 1) in water 2) as much as I like my Crocs sandals (I've been wearing these to photograph weddings and they do an amazing job with my preggo feet) they aren't the most photogenic.
When it comes to fit, go with something that'll hug the bump (that's what these pictures are celebrating!) but is loose elsewhere. I try to avoid purchasing maternity clothes as much as possible, so I love the Wrap Dress from Sexy Modest Boutique because it looks good when you're pregnant and when you're not, which means you'll get more use out of it than a "maternity session dress."
When it comes to colors, think about how you'll use these photos. Will they be printed and displayed in the nursery? Choose colors that go with the theme. If they'll be in an album then you don't need to worry about coordinating with the decor.
And this happens so often that it's the subject of memes–but if you want some couple's portraits during your session, have your man dress the same level of formality as you for consistency.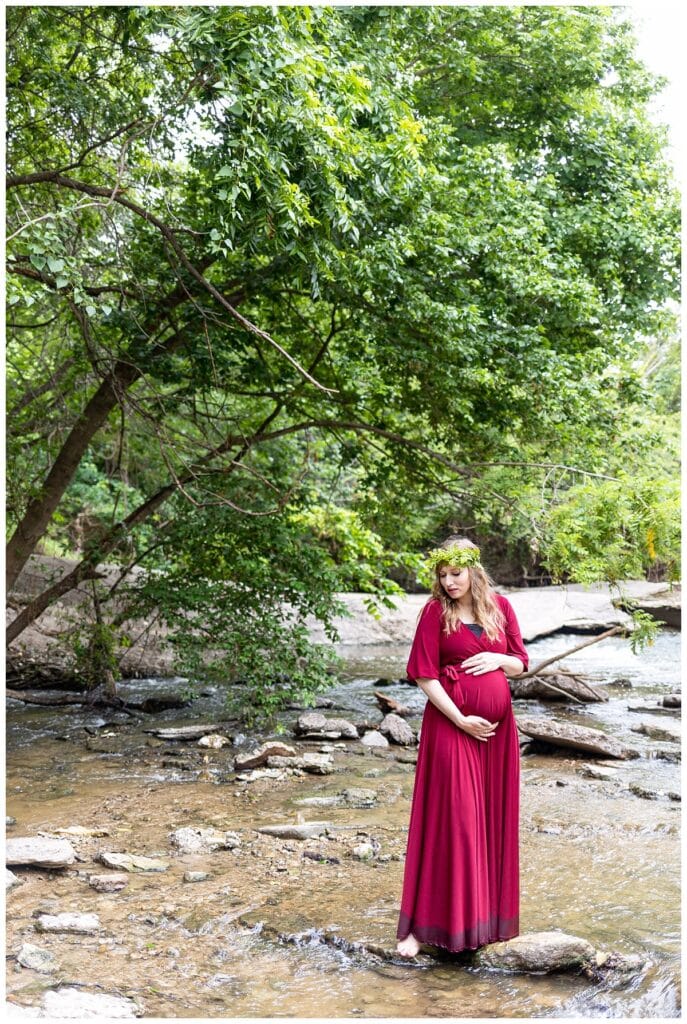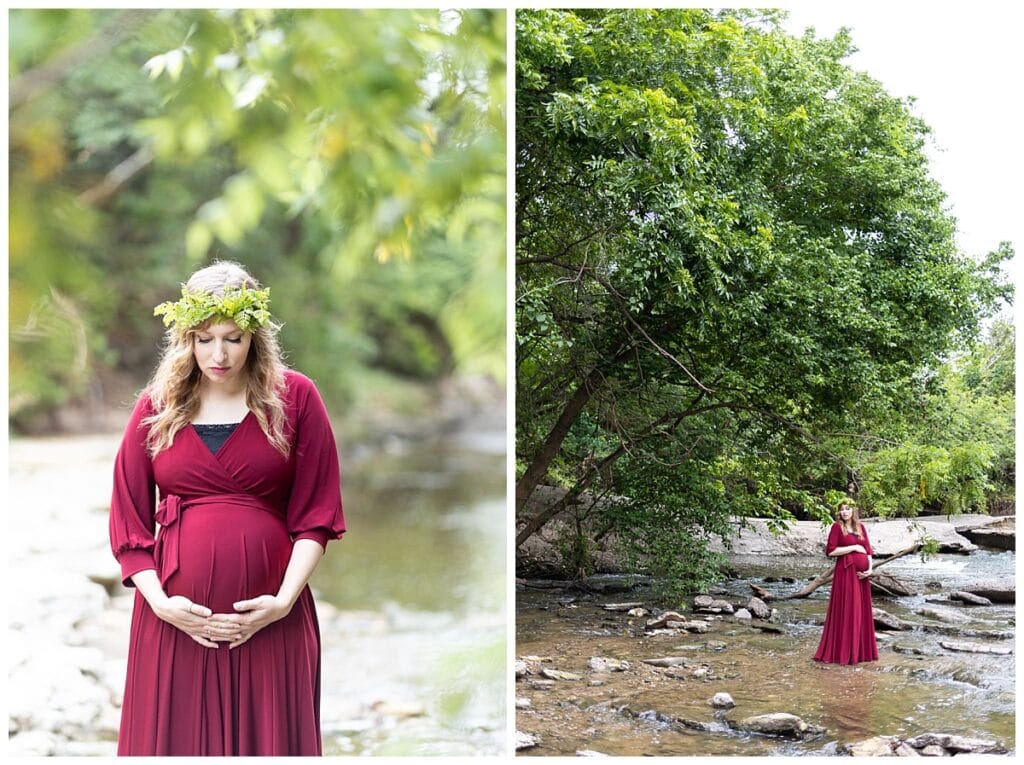 Physical abilities
Share with your photographer what you're comfortable doing! Where we took these photos was about ⅓ mile walk down a paved jogging trail, and then going down a path, which Colton had to assist me with because it involved a lot of big steps to get down to the creek. Not everyone's going to be comfortable doing that and that's ok! If you need something that doesn't require a walk, and keeps you on level ground just let your photographer know (this is a reason I highly recommend longer shoot times for maternity sessions too, even if you are mobile, it does take us ladies a wee bit longer to get places).