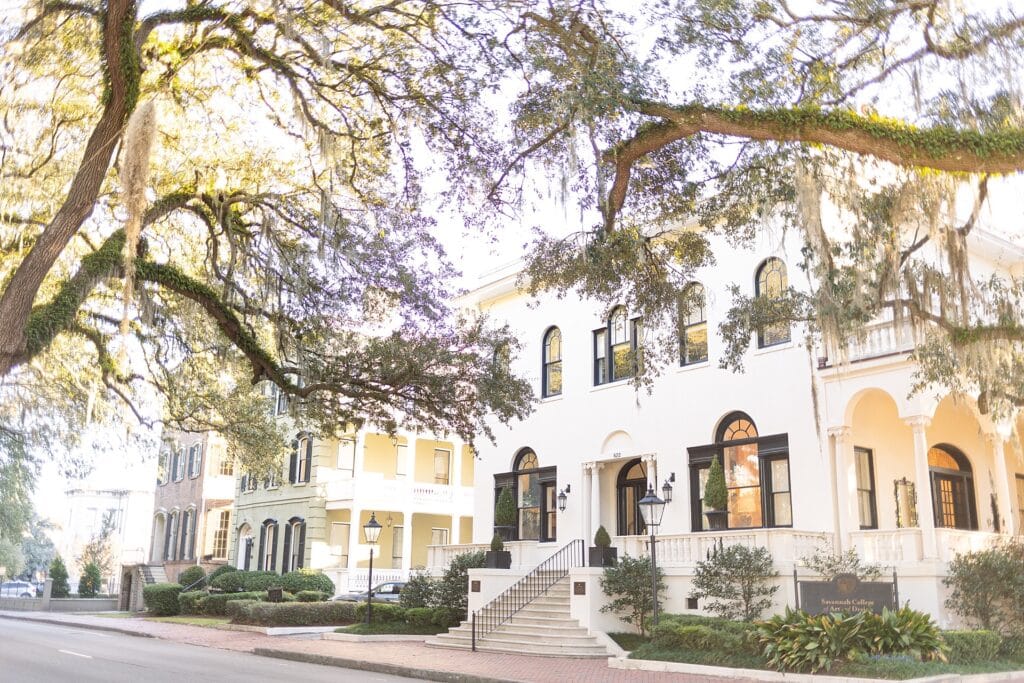 For our tenth anniversary, Colton and I wanted to do something special and travel—just the two of us. International was quickly ruled because I didn't want to travel too far away with a little one at home, nor did I want to spend too much time getting to our destination.
Colton said he wanted somewhere he could enjoy a cup of coffee and a nice fire; I wanted to look at pretty things and eat good food. We definitely wanted a historic setting but not up north because I wanted to be able to enjoy being outside, and I'm really not a fan of anything below 50 degrees.
The three cities I considered were St. Augustine, Florida, Charleston, South Carolina, and Savannah, Georgia. I worried Florida wouldn't be warm enough to enjoy a fire, so we ruled it out. While Savannah and Charleston are very similar, I read Savannah had a much slower pace to it, so to Georgia we went.
But not without a couple of hiccups of course! First, we made all these travel plans during the summer, and to our surprise, purchased a home that winter. So weeks after closing on our fixer upper—and days after Christmas—we were set to leave for our trip. Then, the Friday before our flight, our second born broke his arm and we couldn't get him into an orthopedic doctor until the day (and same time) our flight was set to leave.
On our way to the airport we stopped at Parlor Donuts for some coffee and doughnuts, and ended up having an impromptu anniversary date with our friends Ashley and David (they also got married on January 5th, just a few years after us). 
The flight had turbulence because we had to fly through a rainstorm—something I've never experienced–flying through rain, not turbulence–but it was thankfully mild. We landed at the Savannah airport, one of the most charming airports I had ever seen (just needed a non-chain coffeeshop) before getting in my first ever uber ride–I am very much a "I'll drive myself" gal.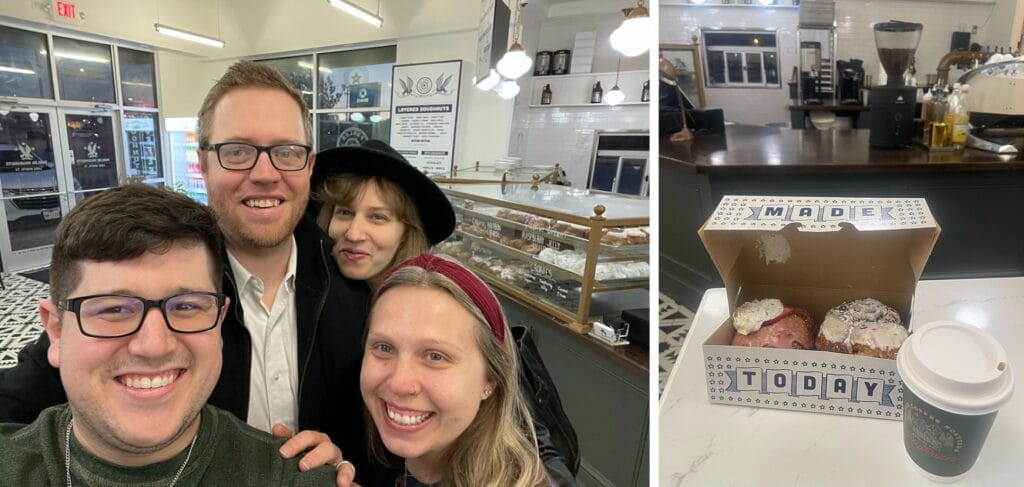 Our home for the next few days was the McMillan Inn, just a short walk away from Forsyth Park and it's famous fountain. I combed Savannah for Historic Inns with working fireplaces in the rooms. We choose the carriage house for its extra privacy and room. The exterior of the building, with golden leaves and twinkle lights, gave me all the Star Hallows aesthetic, and I was immediately charmed with the place.
When I ask friends, "what are our plans?" what I really mean is, "what and when are we eating?" No surprises here that the vast majority of our trip revolved around food, and we were both looking forward to our first dinner in town. We dined at 700 Drayton, a restaurant in another hotel near the park. It was one of those last minute decisions that became an absolute highlight. The atmosphere was fantastic. Cozy fires, historic details, and African wildlife artwork filled the restaurant. As a girl who loved her Lion King and leopard when I was little, these touches put me right at home. And the food was amazing.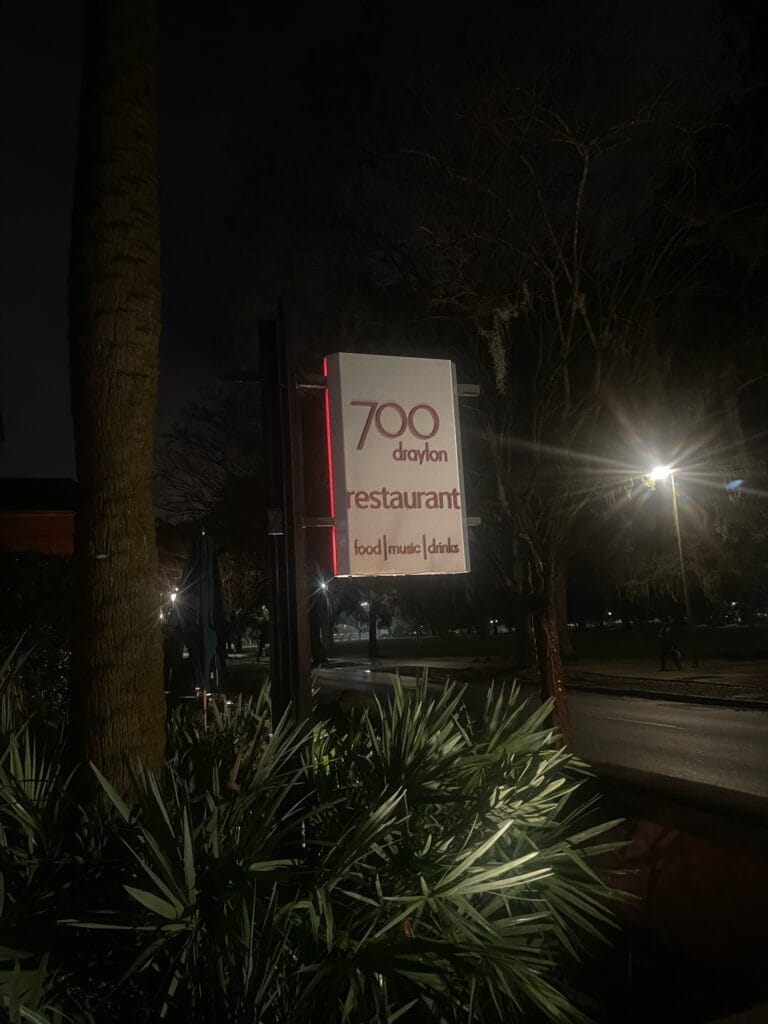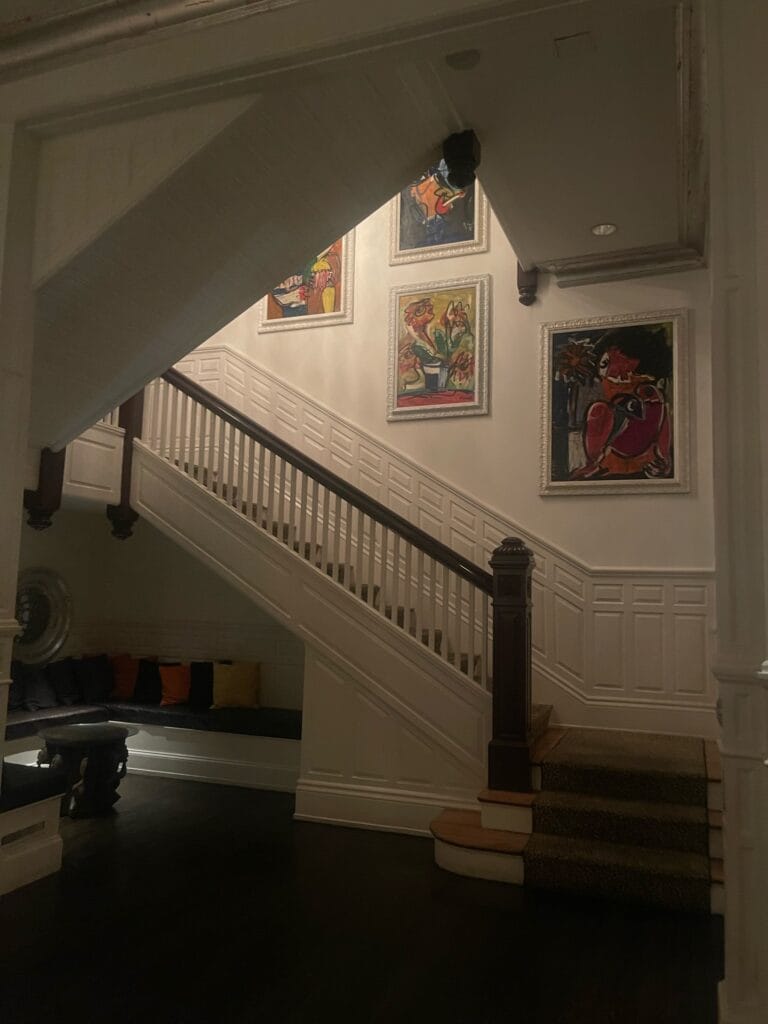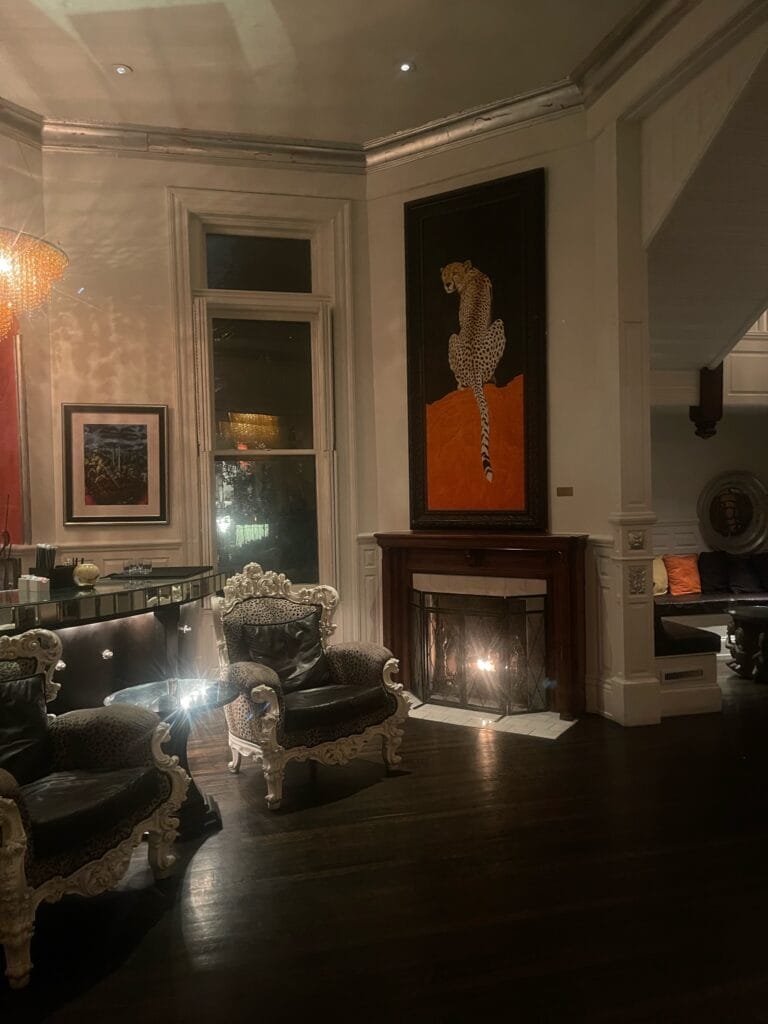 Colton and I lived in France for about 7 months during the first year of our marriage, and it's funny how many little aspects of this trip reminded us of our time there. For one, Colton gifted me a polaroid camera when we got to the Inn–his Christmas present to me before our wedding was my first DSLR, and photographing and blogging our life in Europe is how your girl got her start. Also, one of our favorite things we ever ate in Europe were fried risotto balls in rome. Guess what they had at the 700 Drayton, yep!
Colton had a steak and fries, while I had a pork chop the size of my head.
Dessert comprised of crème brulee, and a cheesecake with honey and fig