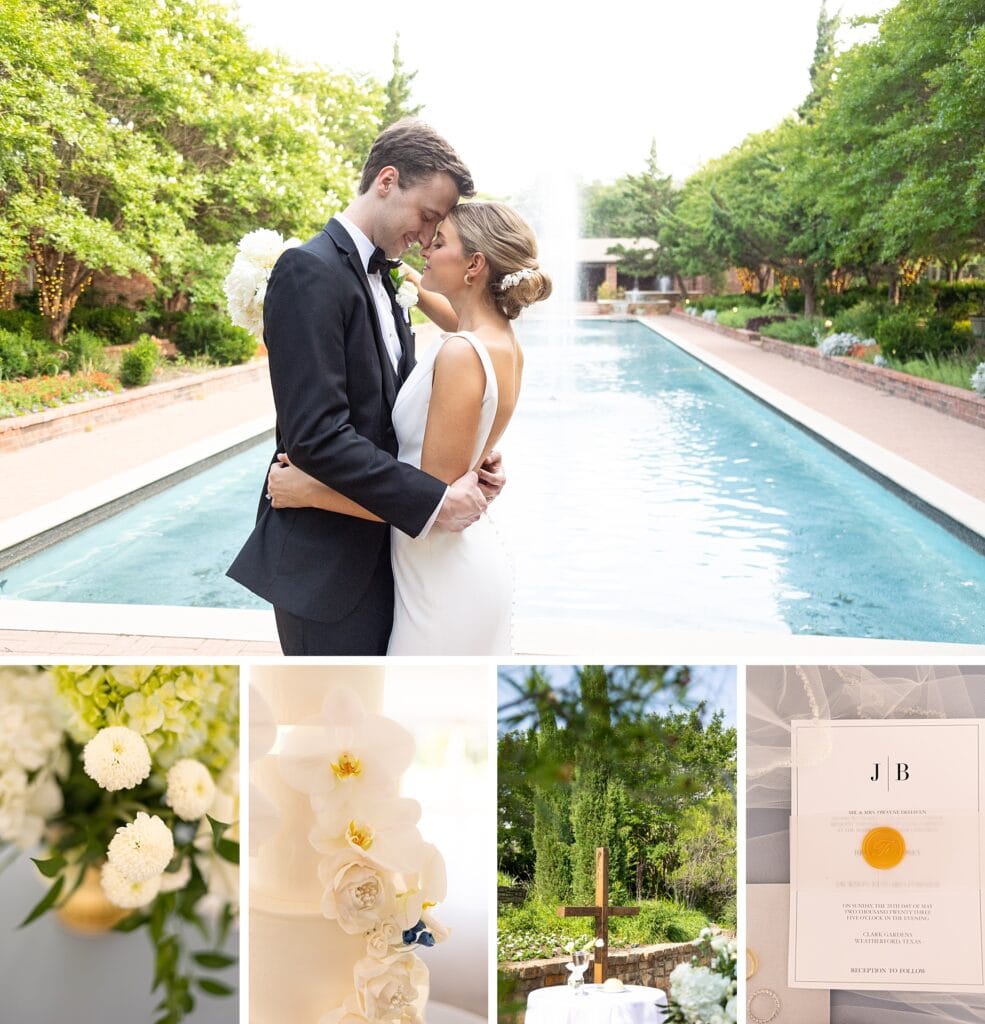 This wedding was good for my photographer soul. But let me back up with some context.
We met Brooke when she was a bridesmaid at Alyson and Dylan's wedding, we also met her mother who provided their fabulous wedding cake. So we were thrilled to hear she was engaged and wanted us to photograph her wedding—even more so once we got to know her and Jackson at their engagement session during the winter.
After photographing Brooke's bridal portraits (coming soon!) I got even more excited about the wedding–her style reminded me of Grace Kelly and all of the details for the day sounded so elegant and classic.
Now, the week leading up to the wedding brought a little extra planning and stress because the chance of rain and thunderstorms seemed to change every day. Some days we had nothing predicted, some days we had up to 60% and most of that in the afternoon. So thank the Lord, when we arrived at Clark Gardens the sky was sunny and no grey clouds in sight.
I didn't want to say anything too soon, but my mentor Katelyn James says that when it's cloudy during the engagement session, it'll be glowy at the wedding, and I'm so happy that happened for them! 
I knew the day was going to look spectacular–Clark Gardens is a beautiful venue, then add the amazing florals from Deana Pueblo Events, plus the fantastic cakes from Sugar Bee Pastries (which just happens to be owned by Nancy, the mother of the bride!). The day ran smoothly thanks to Terri and her team at Finesse Parties and Rentals.
Both Brooke and Jackson were as I expected them–Brooke had this quiet yet excited energy which balanced well with Jackson's playfulness with just a touch of nerves. Their wedding party was just the nicest and also looked fabulous! And I've never had such a sweet First Touch, where both of them closed their eyes as we got them into place, so even Brooke would not be seeing Jackson until she was walking down the aisle.
Following a traditional ceremony where the two shared communion, guests enjoyed cocktails and appetizers on the bowling green before entering the tent for the reception. Pastafina provided three different pastas and it was delicious! The Father of the Bride gave a lovely toast and blessing to the couple that left more than one person feeling teary, before guests satisfied their sweet tooths on the raspberry filled wedding cake, and chocolate and peanut butter groom's cake.
Then it was time to celebrate! All Access DJ kept the upbeat tunes pumping and the dance floor never emptied, and then groomsmen found a new way to wear their bow ties–those photos are some of my favorites for sure.
But all good evenings must come to an end. The guests lined up, twirling ribbons above the newlyweds' heads as they walked into their new life as Mr. and Mrs.