Hello dearies,
You would think after being the girl who tried on too many dresses, I would be tired of wedding dresses, but I'm not. It's still so fun to look at all of the pretty fabric confections and see what brides pick to wear on their wedding days.
It's why I'm so glad I connected with Amber and her team at Bow and Arrow Bridal in Weatherford, Texas. I think you guys are going to love this Q&A! It's full of information, humor, and great insight for choosing your wedding dress.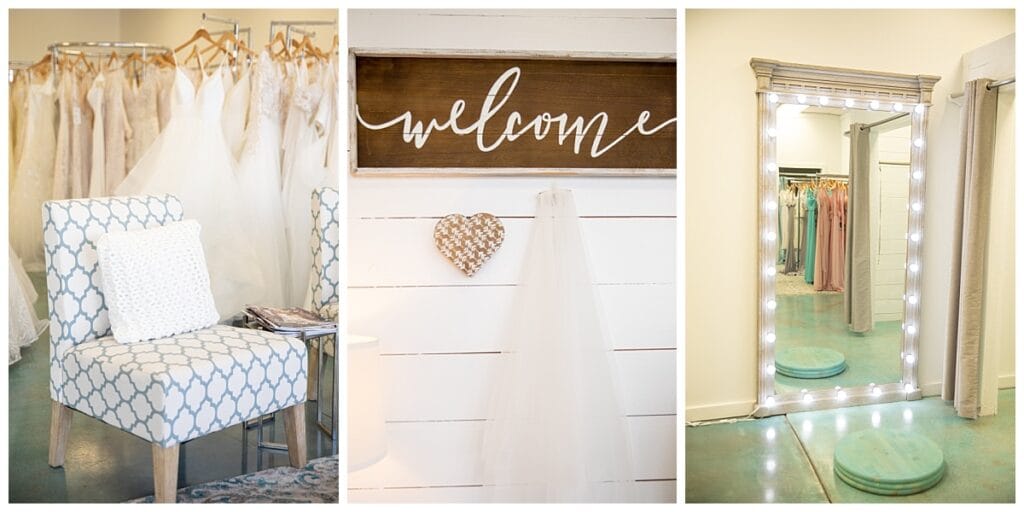 I grew up in Azle, Texas but currently live in Fort Worth. Our family is scattered over Azle, Aledo, and Granbury so Weatherford was such a great fit for opening this business. My husband and I will be celebrating our 14th wedding anniversary on December 2nd! We have a big, red Doberman named Ruby and little gray tabby named Kitty. We spend so much time with our fur babies and out on the lake with family and friends. I've always had a passion for helping people and I just feel so blessed that we can play a small role in a Bride's Big Day!
How did Bow & Arrow Bridal come about?
A good friend (from Azle) was getting married and I was blown away that Weatherford did not have a Bridal Boutique! I had left a career in oil and gas and wasn't sure what to do next and it just seemed like an opportunity I couldn't pass up. After months of paperwork, meetings, deliveries, self doubt and few tears, Bow & Arrow Bridal opened May 1st, 2018.
Is there a particular style or designer of dress you offer?
We offer a variety of styles and designers. We currently feature collections by Allure Bridals, Maggie Sottero Designs and Stella York.
Besides dresses, what do you offer brides?
We offer a variety of veils, hair pieces, earrings, belts and sashes. The therapy sessions are free! **Disclaimer** We are not licensed therapists however, we are good listeners!
Walk us through a typical appointment
We have a sign in sheet that asks a few specific questions about your big day. We will go over your questions, concerns and the overall "vibe" of your wedding so that we have a decent idea of what dresses to pull for you. We then select a variety of styles within your price point and timeframe. A dedicated stylist is in the dressing room helping you in and out of each dress. Once our Bride finds "The One" we offer champagne or a mimosa to celebrate the big yes to the dress! We also take pictures for social media, go over dress specifics and ordering details. Our appointments typically range from one hour to an hour and a half.
If you had a bride come in, she has a venue and a date but has no idea what type of dress to look for, what would be your advice?
That would be 90% of our Brides. This is why we prefer to pull a variety of dress styles based on timeline, venue, budget and just go from there! If you're eloping to a Caribbean beach we're not going to put you in a sleeved ballgown.
What trends are you seeing in bridal gowns?
It's all about the color! Lots of nudes, champagne and blush undertones. The dress details just pop especially, in photography! Some may assume dresses with a little color won't feel "Bridal" but even with color her dress will still be the "whitest" in her wedding by a long shot.
Tips on who to bring (and who not to bring) with to your appointment
Who knows you and your style the best? Bring them! Your second cousin that you see twice a year but Mom doesn't want her to feel left out? No, don't bring her. Sorry, Mom! Your very opinionated Aunt that hates your tattoos and choice in men… No! Don't bring her either. Close, immediate family members (that you get along with) are always a good choice.
What tips do you have for brides when it comes to preparing for the appointment?
1. Consider how you want to look and feel on your wedding day and channel that energy into your appointments.
2. Think about how much you want to spend on your dress and who's paying for it.
3. It's likely you will pick a dress that may take you by surprise! And, it's ok if you don't cry… not everyone is emotional about their dress selection.
4. Please wear underwear — Preferably, nude.
Where can brides find you?