Well Dearie, this blog is going to be a bit different from my others, because I did not take a single photo! My good friend, and fellow photographer, has launched a new business and today I'm having her share all about it (and a bit about herself).
Courtney is the owner of Flora Creek Place, a flower preservation business that takes your beautiful flowers–whether your bridal bouquet or just some beautiful blooms you want to preserve and enjoy for years to come–and turns then into beautiful displays without the fear of a last petal falling (yes that's a Beauty and the Beast reference).
If this is something you're interested in but you're wedding has passed, never fear, she's got a solution for ya!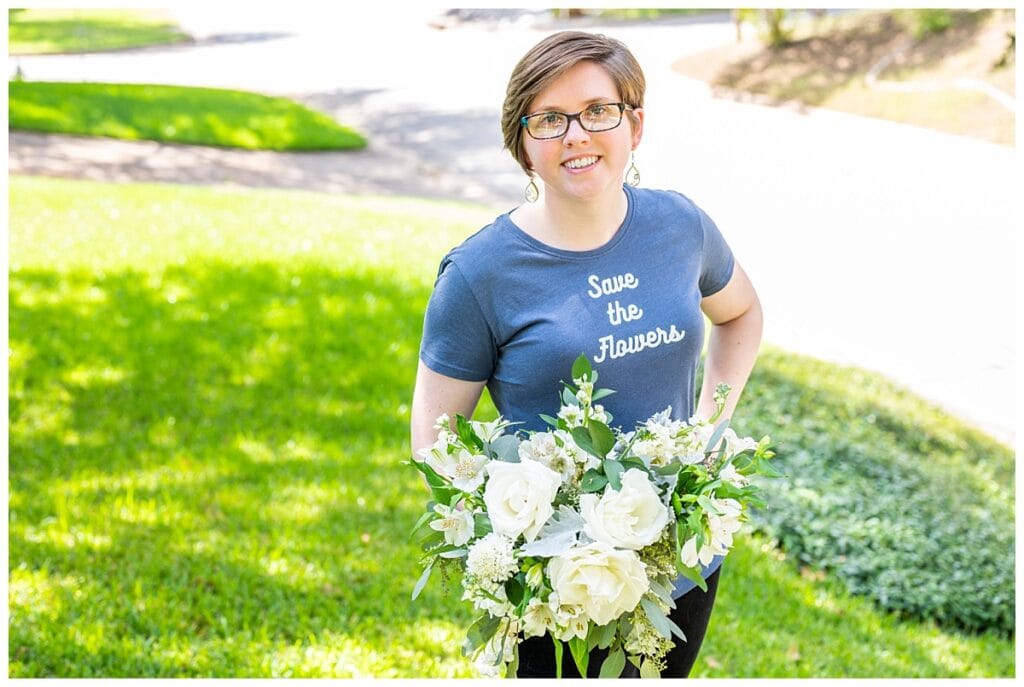 Tell us a bit about your background
I'm a native Texan, born and raised, and spent most of my younger years on our family farm in a small west Texas town. My great-grandmother and my grandfather were both amazing oil painters and my grandparents owned a local store, similar to a mini Walmart, just without food. So from an early age I was always drawing or painting and loved helping out at the store with my grandparents! It was obvious I wasn't going to be a "9-5 job" kind of a girl! The creative entrepreneurial life was always in my future!
My freshman year of High School I started exploring photography and instantly fell in love with it! I attended UNT where I earned my Bachelors in Photography and 5 years later I had my own photography business.
My hobbies still include painting and I love traveling and being with my family! And now that I'm in flower preservation, my newest hobby has been learning every species of flower!
How did you become a flower preservationist?
It's kind of a long story, but it's a fun one! Like most wedding vendors, I found myself sitting on my couch a lot last summer. As a wedding photographer, my job wasn't considered essential so I went months without working. During that time, I found myself trying to find other ways to make money. At first I tried finding other photography avenues, but everyone of them just didn't feel right. So I just decided to work on improving my current business model and just go full force once I was able to.
Well, while I was researching some things, I happened upon a Pinterest post talking about flower preservation. The piece in the photo actually looked very similar to something my grandmother had when I was younger. It peaked my nostalgic heart's interest and so I began looking for more posts like it. As I found each post, I felt something inside of me that I hadn't felt in a very long time… a fiery excitement!!! With each new thing I learned about flower preservation I became more and more excited to try something new.
I spent the next 6 months learning everything I could about it, following other artists, taking online courses, and more! After making a few pieces for myself, I was convinced this was a new calling for me, so my husband and I sat down and worked out all the nitty gritty business aspects to see if it was something we thought we could do. After a lot of number crunching, and even more prayers, we knew this was it! Fast forward to May 2021 and Flora Creek Place became an official business!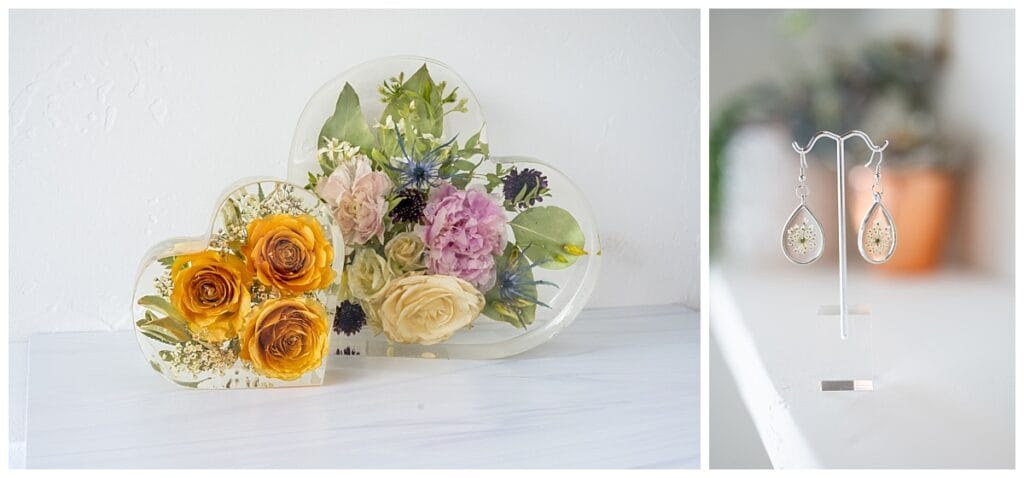 What is the process for flower preservation
The process for flower preservation usually take about 6-8 weeks. Time is mostly dependent upon the types of flowers, and how many pieces you have made.
I must have the flowers within 24-48 hours of the wedding day, 72 hours at the absolute latest. This is crucial to ensuring the flowers are still in a healthy state before I begin the drying process. Once I receive the flowers, I will deconstruct the bouquet and place each flower and greenery stem in a special drying medium called silica gel. They will stay in this medium for 2-3 weeks, depending on the type of flowers. Flowers that have a lot of moisture require more time. It's important that the flowers and greenery are 100% dry before placing in resin or they will rot over time.
Once everything is dry, I will design your pieces and send you pictures for approval. Once approved, I begin pouring the resin! Resin requires multiple layers to be poured over time. Each piece has a different number of layers, so this process can take anywhere from 7-14 days to complete. After the final layer is poured, it takes another 7 days to fully cure and harden and then it can be delivered!
When should clients reach out to you?
I always recommend clients reach out as soon as they have their wedding date set, especially if they are getting married during a popular season. Due to the amount of time and space needed for each bouquet, I can only take on a limited number orders a week. Even if a client is just now finding me and their wedding is in a few weeks, I still encourage them to reach out and see if I have availability!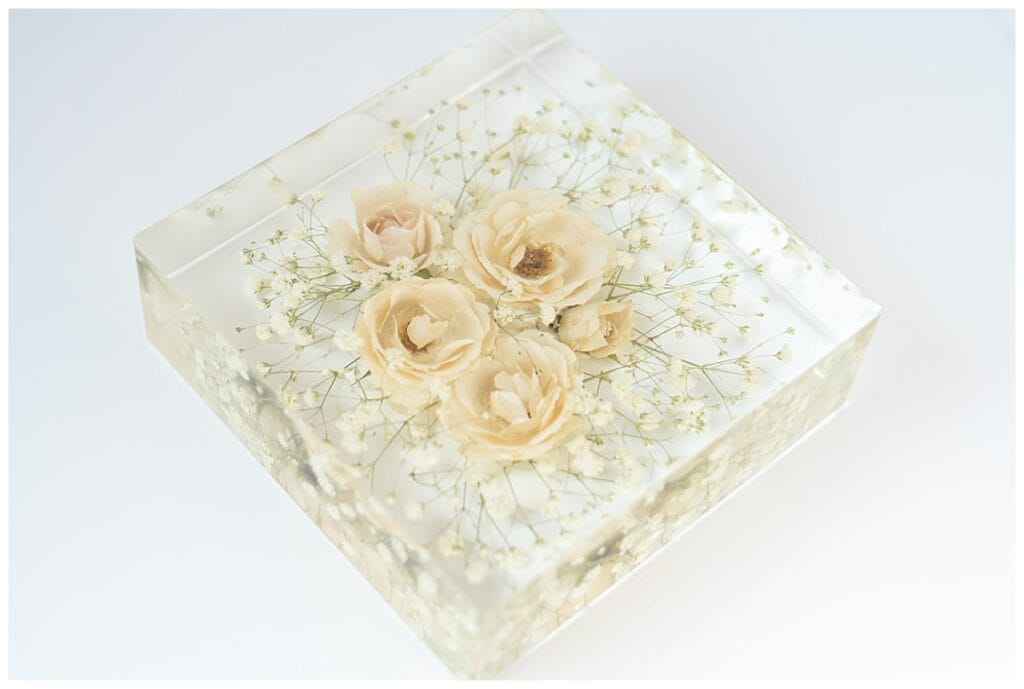 What tip(s) do you have for brides when it comes to flower preservation
One of the biggest tips I tell brides is to let your florist know you will be preserving your flowers. They will be able to tell you which flowers dry well and which ones don't. Brides are also welcome to consult with me before ordering their flowers as well.
While there are some flowers that preserve well and look exactly the same as they did fresh, most flowers will change in appearance. Some will have small changes like whites turning cream, or pale pinks becoming paler. But there are some, like red roses, that can have very different looks. For instance, some red roses turn dark burgundy or even black when dried, and some pink flowers will turn purple. Unfortunately, we cannot always tell you exactly what will happen to your flowers as they are all unique, but we can give you an idea of what they may look like.
And my second biggest tip is to take extra special care of their bouquet on wedding day! The less action your bouquet sees, the better! And for the love of everything flowery, DO NOT toss your bouquet! Use a bridesmaid's bouquet or ask your florist to include a "Toss Bouquet" in your package. Have a special vase just for your bouquet, so after you are done using it for portraits, it can chill out in fresh, cool water for the rest of the night!
If a bride has just discovered flower preservation, but she no longer has her flowers--or they're already dried--is there anything she can do?
Yes! If a bride doesn't have her flowers anymore, I can do a bouquet recreation! I would just need a photo of the bouquet and to know which resin pieces they want to create. Once I have that info I can contact my florist and get a quote for the flowers from her bouquet. I won't have to buy the whole bouquet, just enough of each flower to use in the pieces.
I do also have my own stock of dried flowers from previous bouquets left over that can be used too! The cost of the flowers will be the bride's responsibility, so I can add the quote from my florist to her invoice or the bride may source her own flowers and deliver to me. If a bride still has her bouquet and it is already dry, I can still use it as long as it doesn't have any mold in it. I would request pictures of the bouquet to make sure it's in stable enough condition to be deconstructed and if it is, then they'll work perfectly!
Where can everyone find you?