Hannah and Matt are the husband and wife team behind Palm + Pine, the cutest little photo truck you ever did see. We connected at the Bumble & Brim hat party at the Lazy S Hacienda just west of Weatherford and DFW.
They were such a fun couple to chat with, and I could tell had great vision and style after photographing the truck they'd turned into a photo booth; I knew I needed to introduce them to y'all on the blog and I hope we get to see them at a wedding soon!
Tell us a bit about yourself
Matt and I's backgrounds seems very random at first. Matt and I are both very creative. Matt studied art, graphic design, and film/photo and is currently a full time contemporary abstract artist. I was in a dance company, a makeup artist, then worked a few years at a production company. We were born to live very creatively and out of the "normal" and Palm+Pine Photo Truck is our most recent adventure!
Our big goal with Palm+Pine was to do something people have never seen before. We love the classic photo booths and the question became "How do we make this new?"
Where did the name come from?
Matt and I had just gotten married and were honeymooning in Bali, Indonesia. Matt brought up the idea of taking the old postal truck in his dads backyard and turning into a photo booth on wheels. We started thinking about names that reflect our core love of the beach. There it was… Palm and Pine. Our business name! 'Palm' comes from the palm tree and 'pine' from a pineapple. And of course with a deeper symbolism of Matt and I now becoming husband and wife and doing this journey of life together as a team.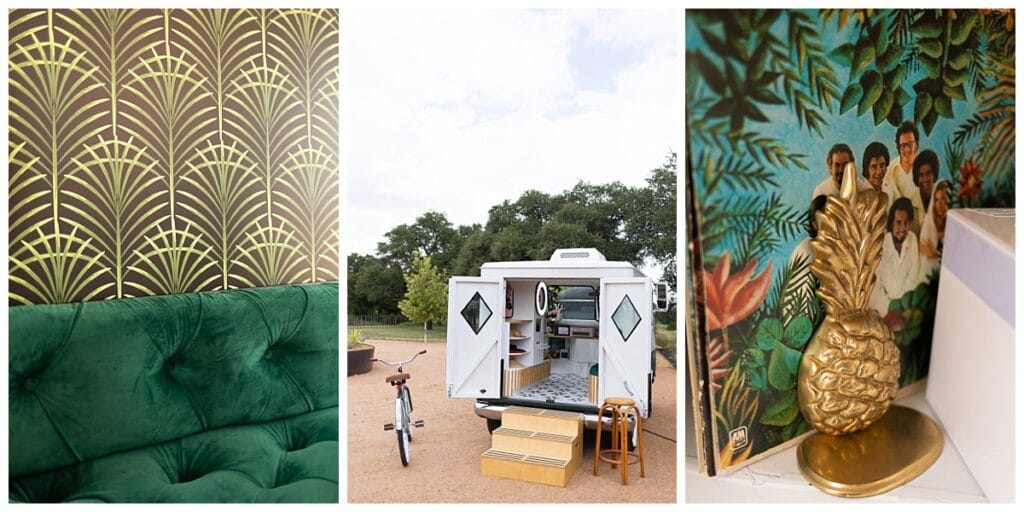 What services do you offer?
We are a full service photo booth! Clients will hire us out for their event and the fun begins! Our booth prints out the classic photo strips that are fully customizable. Unlimited prints, and hand picked vintage high quality props are our speciality. We also love partnering with brands and companies to provide a unique experience to promote your brand and engage with your clients.
When should brides reach out to you?
The earlier the better! We are already booking some events a year out but of course we understand brides that have quicker timelines. Don't hesitate to reach out, we are happy to check our availability and hopefully get to party with you!
What's y'all's rain plan?
Depending on your venue we are able to park the truck inside! Our booth can also be fully enclosed by closing the back doors and we always carry a tent with us if we are planning on parking outside.
Anything you'd like to add?
We recently became an award winning truck in the automotive world! It took us two years from start to finish carefully building out every detail so that our truck stands out in the crowd. Our goal is to not simply be just another photo booth but to truly elevate your event and bring something people have never seen before. We are so excited to bring this labor of love and working art piece into the world to help you celebrate!