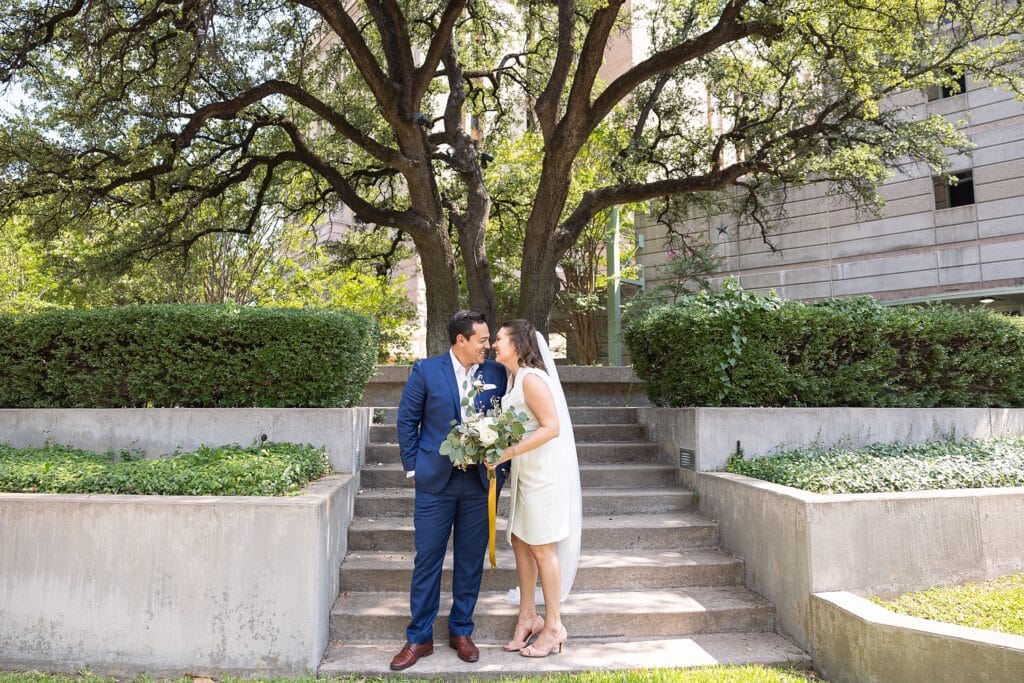 Have you ever met someone in person for the first time, and they immediately make you feel so welcome? That's Jesus and Anna. The day of their elopement, we met with Jesus to get set up for the First Look and he immediately greeted me with a hug and began introducing me to his family.
You could tell he was so excited, just beaming.
We quickly got him in position so Anna didn't have to keep waiting in the car.
I was so glad they decided to have a First Look, allowing a moment for  just the two of them before they headed into the Tarrant County Courthouse to join their families and start their forever. Jesus and Anna were so cute together–he even twirled Anna around and I knew then they were going to rock their portraits!
Not to mention they looked fabulous. Anna and her mother enjoy sewing projects, so they naturally made some adjustments to her Marciano dress she purchased while back home in Finland. She even tweaked her veil to make sure it was the right length just for her, and she made her beautiful bouquet and Jesus's boutonniere.
Once up on the fourth floor, we joined both of their families and the happy tears were already flowing. Everyone was hugging, taking photos, and just so excited for the soon to be Mr. & Mrs. When the ceremony began, Judge Swearingin did an amazing job making their brief ceremony personal and heartfelt, taking time to make note the minute the two became husband and wife.
After that it was time for portraits! The happy couple popped some bubbly to cool off-it was nearing 100 degrees at this point–as well as a Chilean flag to commemorate their meeting in Chile during a student program. Portraits next to the courthouse fountain called back their memories of the Trevi Fountain in Rome, where they simultaneously wished to marry one another–and neither one knew they were making the same wish at the time. We enjoyed the shade of Sundance Courtyard before capturing some classic portraits in the Sundance Square before sending them off to celebrate with their families.
I don't capture elopements often, but goodness are they so much fun. The relaxed pace, the couple getting to hang out with each other and their families right before they say "I do," then popping out for a leisurely round of portraits–add in a beautiful couple that just adore each other and it really does make for the best time.