Today we're talking to Amanda Marie from AMarie Artistry, and we're learning all the things about planning your wedding day look. I had the pleasure of working with Amanda during our Brunch Wedding Styled Shoot, and she did a fantastic job creating Jamee's bridal look. Without further adieu, here's Amanda.
Tell us a bit about your background and life today
Hello! My name is Amanda Marie Abram and I am the owner and principal artist for AMarie Makeup Artistry. I am originally from California, but I have been in Texas for the past 6 years and I love it! I have my Bachelor of Science in Psychology, which is very beneficial for the industry I am in. I have always been a great listener and know how to put others at ease. 
Before I pursued makeup full time, I was a stay at home mom for about 10 years. Once I moved to Texas, I was a librarian for a charter school. My true passion of artistry kept showing through no matter what I did. I even started a makeup club at the school to educate the young ladies on how to do their makeup and to not be fooled by YouTube and Instagram. Beautiful makeup, but there is a time and place for everything.
How did you become a MUA?
I entered the professional makeup artist industry about 4 years ago. I have always been into makeup, but never thought of making a career out of it. My husband is the one who motivated and encouraged me. I left my full time job over a year ago and have not looked back. I am in love with what I do and truly enjoy working with others.
What services do you offer?
I currently have a team of artist that specialize in full makeup services (skin prep and lashes are included) and hair styling services. I am in the process of creating custom color match foundations for purchase and am hoping to add spray tanning to my services.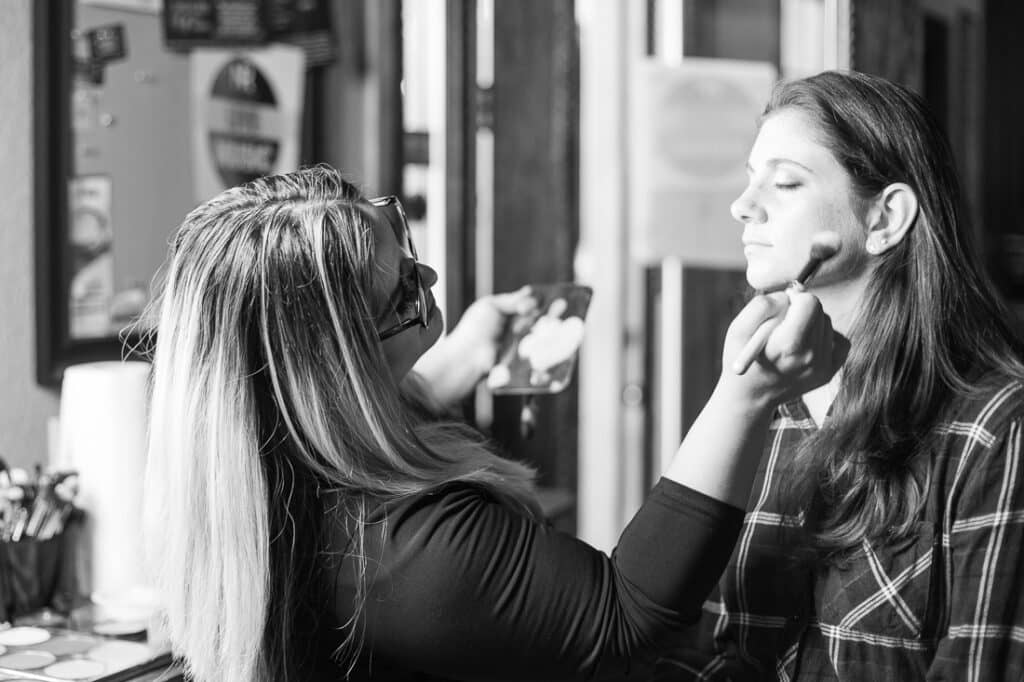 When in the planning process should brides reach out to a MUA?
A makeup artist should be contacted and booked right after the venue and photographer are picked and booked. Besides day of hair and makeup, a bride typically will book a trial, bridals, and/or boudoir and having the photographer secured helps with scheduling since there are so many moving parts. Same with the venue on their availability for bridal photos. It makes scheduling a lot easier.
Best answer is as soon as possible, especially if your wedding will be in the spring or fall. Saturdays fill up quickly for everybody in the wedding industry during peak season.
What tip do you have for brides when it comes to picking out their wedding day look?
The best advice is to pick something that makes you feel beautiful. Your wedding day makeup should not be a day to test out a new look. Most bridal makeup is soft and natural with a touch of glam.
Makeup is not used to make you look different, it is to make a better version of yourself.
How can brides prepare their skin for the big day?
Drink lots of water! Most oily skin is really dehydrated skin. It gets oily because your body is trying to overcompensate in moisturizing your skin. I also recommend using face mask sheets, lip mask, and under eye mask all leading to the week of your wedding.
If you want to get a spray tan, do a trial run at least a month ahead that way, when you do it for the wedding, you will know what to expect and if anything needs to be changed, you will be able to. When you do get your spray tan for your wedding day, do it at least 2 – 3 days before.
The best time to get a facial is at least 7 days before the wedding. If any irritation occurs, you will have a few days for the skin to heal.
The best time to get your eyebrows or any facial hair removed is at least 3 days before your wedding date. Waxing and threading do tend to create a bit of skin irritation, but doing it days before gives it time to heal.
Anything brides should NOT do on their wedding day? Or something they should leave off?
On wedding day, a nice cleaned and moisturized face is key. If there is any makeup residue left from the night before, it will take the makeup artist more time to clean and prep the face. Usually we are on a time crunch and every minute counts.
Anything you'd like to add?
Brides, if you are looking for cute gift ideas, robes or pajama tops with buttons are adorable and great to wear when getting your hair and makeup done.