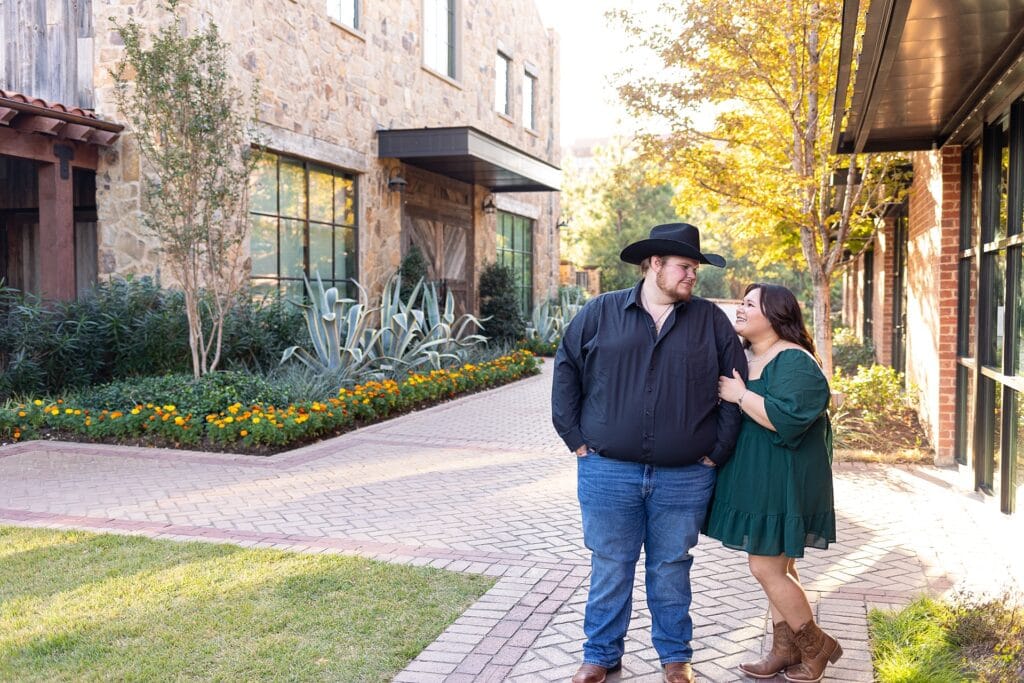 It was a perfect day to wander around the Fort Worth Stockyards and take portraits, just the right amount of breeze and not too warm—and the light was amazing! Jessica and Steven were both a bit nervous at the start–as all of our clients are– but they did such a great job! The real trick I tell people to get great portraits is being comfortable with each other as a couple, this will make the experience even more fun and will shine through in the final portraits.
Good thing that Steven and Jessica are so relaxed around each other, and that Steven knows exactly what face to make for Jessica to laugh! I loved the dark green dress Jessica chose to start with (hello its my color!), add in Steven's black cowboy hat and you've got a great preview for their wedding happening next year at the Diamond H3 Ranch in Weatherford.
We started their session in the midst of the Stockyards Station for the "warm-up" portion of their session. After that I told them, "Look, I know it's cheesy, but there just happens to be an 'L' on the side of the maze AND it's in good light, I feel like we have to take a photo there." They are the soon-to-be Mr. and Mrs. Lewis after all.
After that, we wandered over to the Drover Hotel where they both handled my directions so well even though I was whispering to not disturb a wedding happening on the hotel grounds—maybe I should do that more often because I was losing my voice the next day. Right as the sun was dipping down, we headed over to the cactus and purple sage patches near the abandoned tracks for some dreamy golden hour portraits.