Planning a styled shoot is a lot like planning a wedding, but starts with a mood board instead of a proposal. The proposal comes after you've realized your idea, and then reach out to vendors you'd like to participate in the shoot.
Know why you're having the shoot. Is it just to flex creative muscles? Is it so you can work at that new venue you've been dying to photograph but haven't booked a wedding at yet? Are you trying to fill some holes in your portfolio? Is it to get published?
Knowing WHY you want to have a styled shoot is a crucial step in the design process because it will affect how you should be shooting, as well as what to incorpate in the shoot itself.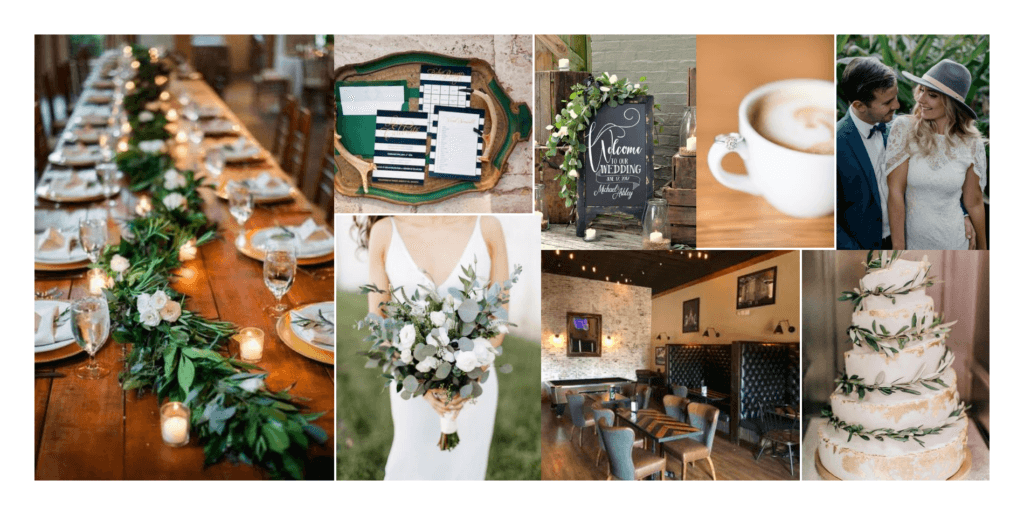 I like to start off with a pinterest board–go wild with pinning but then start dialing back on your saved images so you're vision is clear to anyone else you show the board too. I was THRILLED with Pinterest introduced Sections, so now each vendor or aspect of the shoot gets its own section within the board.
From there I may create a vision board to easily share en mass if I'm posting to a vendor group rather than reaching out individually (the photo above was created using images from my pinterest board for a brunch styled shoot you can view here). Be sure to credit the original photos, at minimum declare that they aren't your images in the mood board.
And while photos are great, I do think you'll have the greatest outcome if you can full articulate what  you are wanting either verbally or written.

This is the step where you need to discern how many people you want involved in the shoot. Will you have a coordinator? Other photographers? You also need to set expectations for compensation, most vendors will work TFP (trade for photos), but vendors like florists will sometimes require you to cover the base cost of the flowers–make sure you have this worked out with all you vendors so there aren't any conflicts.
Will you invite other photographers? This will limit your freedom in shooting but will allow you to network, perhaps learn some tricks, and, if you charge them a fee, cover any expenses you may have incurred for the shoot.
After the shoot is over, you'll need to ensure you deliver images promptly, and easily. Be clear on if you're submitting for publication or if the planner will, and when the other vendors are free to be sharing the images themselves.