Hello dearies,
You might have surmised from the blog title, I think Kaitlyn is a wizard when it comes to wedding dresses. When I hear one of my brides is using her for their alterations, I'm happy to know they are in good hands. Not only does she have a great sense of style, she is just a sweet soul to work with and you will not regret making her a part of your wedding day's "glam squad."
Tell me about your life away from work, where are you from? What do you do in your free time?
I grew up and went to school in Nebraska. In order to grow my skills and start my career in fashion, I moved to Texas. February was my 5th year! In the meantime I have met/married my husband and started my own business. While at home, you will find me snuggling our 9 year old yellow lab, Nelli, or dreaming up the next area of the home I want to decorate. Outside the house, we enjoy weekly date nights finding a new restaurant and in the summer we spend our time at Possum Kingdom.
How did you become a dress designer?
I went to the University of Nebraska for Textile and Apparel Design. My love for evening and bridal wear started when I moved to Texas and worked for a designer. I grew by skills and loved the work. We had moved further west of DFW and the drive Dallas no longer became feasible. With this, I knew it was time to create Kaitlyn Coufal Couture.
I know you made a lot of the dresses for your own wedding, what was that like? How long did it take you?
That's correct! I made my dress, both his mom and my mom, my 5 bridesmaids, and my sweet niece's flower girl dress. NINE dresses in total. For about 6 months, I would spend my time after work and my weekends working on these dresses. I had everyone try on dresses and find a silhouette that fit their body style and personality. If was fun to take these from inspiration to final product. A lot of time and love were put into these gifts!
What services do you offer?
I offer custom apparel-bridal and evening, bridal alterations, and event floral.
When should brides reach to out if they want custom dress? What does that process look like?
As soon as they know their date! 9months is an ideal timeframe. We can shorten the length of the process, but this limits materials available.
We start with a consultation to talk about silhouettes and materials. From there I will source lace and embellishments that match your vision. We will have another consultation where we go over sketch ideas and finalize fabrications. From there, we been with a muslin fitting. This is were I create a mock dress in inexpensive fabric to get the silhouette and fit down. From there your actual gown is created and we make any alterations along the way to perfect the fit. It's a fun and interactive process!
What is the process and amount of time brides should allow for alterations?
Most brides schedule for alterations 2-5months prior to the wedding. My typical turn around time is 2-3weeks, but its great to have them crossed off the list. If a bride is in the process of losing weight or is pregnant, I always like to know this information and we schedule during the final month, so their body is most accurate to how it will be on their big day!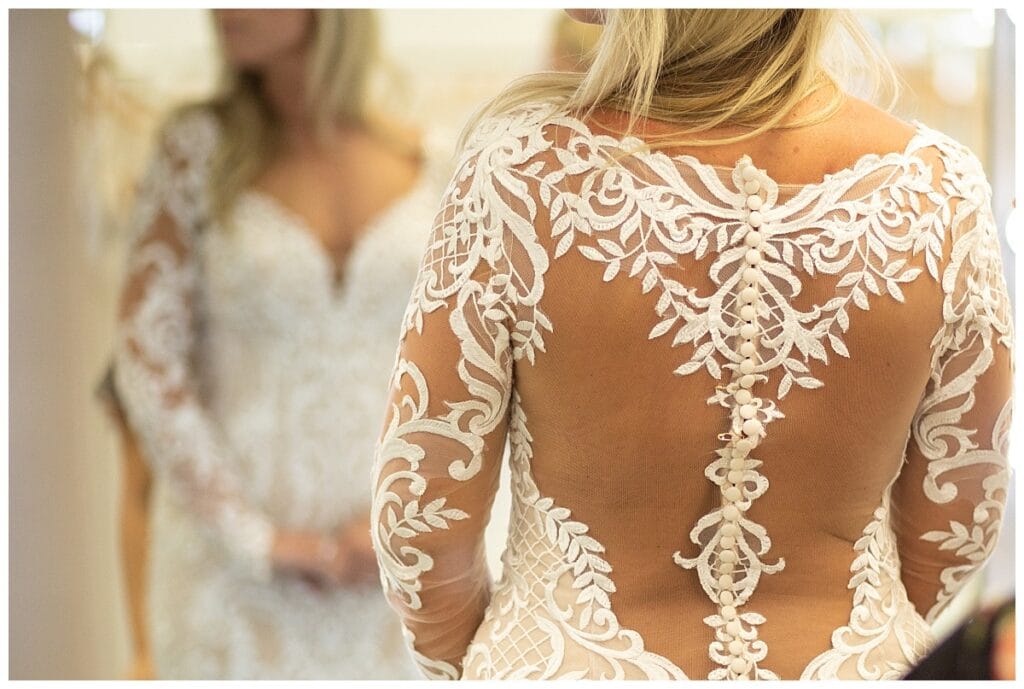 What tips do you have for brides when it comes to having a custom dress made or having alterations done?
Custom dress: Inspiration photos are great, but having tried on dresses and taking pictures is everything! We can take aspects of dresses and make them into your dream gown.
Alterations: Don't forget your dress and shoes! If you've ordered your shoes, but they haven't come in yet, I can adjust your height based off the specs of the shoes and the ones you are trying on with. I believe when you come by yourself for alterations, this makes the fitting more personal. You and I get to chat while I pin and transform your dress to fit your body. If you are more comfortable with your mom or a friend, absolutely bring them along!
Where can brides find you?